UK declares state of emergency in several Caribbean Overseas Territories hit by hurricane Irma
Friday, September 8th 2017 - 09:47 UTC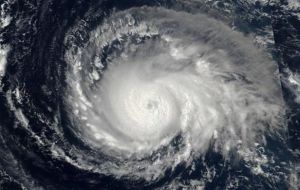 A state of emergency has been declared in a British Overseas Territory hit by Hurricane Irma. British Virgin Islands governor Gus Jaspert said there were reports of casualties and fatalities, and help had been requested from the UK. He said radio and other communication channels were extremely limited.
The UK government has increased the relief fund for British overseas territories devastated by Hurricane Irma to £32m.
The announcement - increasing the fund from £12m - was made by Prime Minister Theresa May as she said the government had responded "swiftly" to the disaster. Defence Secretary Sir Michael Fallon said the government was doing all it could to help people affected.
But Baroness Amos said it was felt the UK "did not respond" quickly enough. In an audio message, Mr Jaspert said: " I come to you with a heavy heart after experiencing and observing the extent of devastation caused by Hurricane Irma.
"After consultation with the premier, I have declared a state of emergency for the territory. Radio and other communication channels are extremely limited. And so I am reaching out with this message via any channel possible. Please do pass it on by any means accessible to you."
The low-lying British territory of Turks and Caicos is still in the storm's path and evacuations have started.
Foreign Office minister Sir Alan Duncan said British overseas territory Anguilla received the hurricane's "full blast" while the British Virgin Islands would need "extensive humanitarian assistance".
At least one death has been reported on Anguilla, according to local officials. British territory Montserrat was "swiped" but the damage was not as bad as first thought, Sir Alan said.
Royal Navy ship RFA Mounts Bay is in the region and HMS Ocean is also being sent but is not expected to arrive for another two weeks.
International Development Secretary Priti Patel said "world-leading humanitarian experts" as well as 200 shelter kits had been sent to the region as part of the UK's response.
Hurricane Irma has caused widespread destruction across the Caribbean, reducing buildings to rubble and leaving at least 15 people dead.