PM May rings President Trump over a threat to Bombardier jobs in Belfast
Tuesday, September 12th 2017 - 09:14 UTC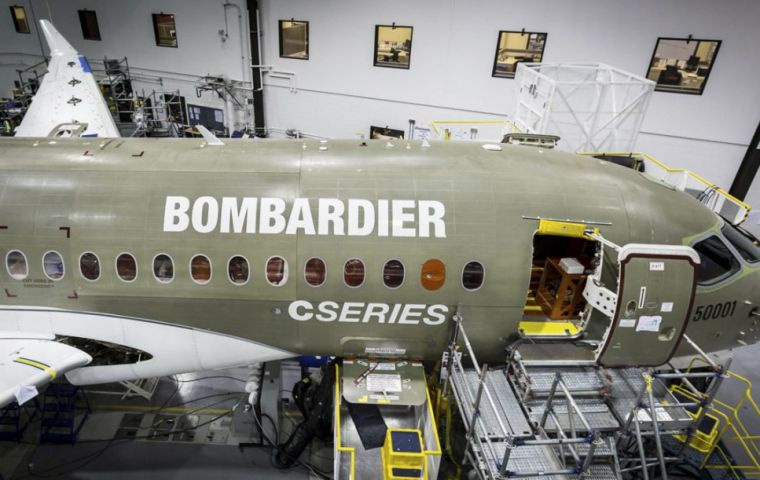 Prime Minister Theresa May has phoned US President Donald Trump over a threat to jobs at Bombardier in Belfast from a trade dispute. In 2016, Canadian firm Bombardier won an order to supply up to 125 CSeries passenger jets to US airline Delta. The wings for the CSeries are made at Bombardier's Belfast plant.
However, rival aircraft firm Boeing has complained to the US authorities that the deal was unfairly subsidized by the Canadian state. The US Department of Commerce is due to make a ruling later this month. It could hit Bombardier with punitive tariffs.
Tariffs could make it very difficult for Bombardier to find new CSeries customers in the US. The CSeries project supports hundreds of jobs in Belfast.
A spokesperson said the government "is working tirelessly to safeguard Bombardier's operations and its highly skilled workers in Belfast".
"Ministers across government have engaged swiftly and extensively with Boeing, Bombardier, the US and Canadian governments," they said.
"Our priority is to encourage Boeing to drop its case and seek a negotiated settlement with Bombardier."
The spokesperson said Prime Minister Theresa May raised the issue and her concern to protect jobs in Northern Ireland in a call with President Donald Trump last week.
They also said Business Secretary Greg Clark went to Chicago to meet Boeing's chairman, president and chief executive officer, Dennis Muilenburg.
Bombardier management in Belfast are also understood to have recently briefed trade unions about the importance of the case.
Boeing has alleged that Bombardier engaged in 'price dumping' by agreeing to sell 75 of their planes for almost US$14m below their cost price. It also points out that the Delta deal came after the regional government of Quebec effectively bailed out the CSeries program with a US$1bn investment.
It said: "Equity infusions from government coffers not only rescued the program but have given Bombardier the resources it needs to aggressively target the U.S. market."
Bombardier has described the allegations as "absurd" and said the government investments "comply with the laws and regulations in the jurisdictions where we do business".