Trump's firing of FBI Director, "the biggest mistake in modern political history"
Tuesday, September 12th 2017 - 09:03 UTC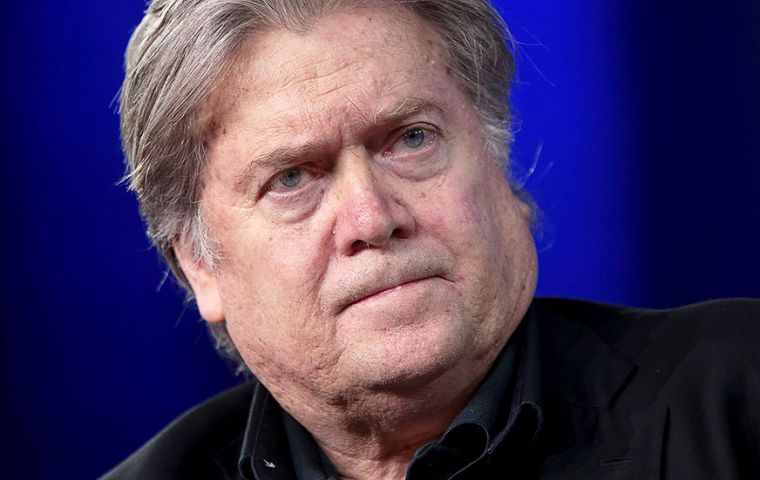 Ex-White House chief strategist Steve Bannon says President Trump's firing of the FBI's director was the biggest mistake in "modern political history". Mr Bannon told CBS News if James Comey had not been sacked, a special counsel would not have been appointed to probe alleged Russian election meddling.
The former presidential adviser called the special counsel inquiry a "waste of time" and "a total and complete farce". Mr Bannon was himself dismissed from his White House job last month.
But he vowed in an interview with CBS 60 Minutes program broadcast on Sunday night to be Mr Trump's "wingman outside for the entire time" in office. Mr Bannon has returned to his previous role as chairman of Breitbart News, a right-wing outlet.
A keen student of history, he apparently rates Mr Comey's ousting as a presidential error even more egregious than Bill Clinton's liaison with Monica Lewinsky, Ronald Reagan's Iran-contra affair or Richard Nixon's Watergate scandal.
Mr Bannon told CBS: "So the firing of James Comey was the biggest mistake in modern political history. I don't think there's any doubt that if James Comey had not been fired, we would not have a special counsel, yes," he added.
"We would not have the Mueller investigation," he said in a reference to special counsel Robert Mueller, a former FBI director, "and the breadth that clearly Mr Mueller is going for."
Mr Mueller was appointed by the US deputy attorney general after President Trump stunned Washington by firing Mr Comey on 9 May. The special counsel's team is reportedly investigating the president's decision to fire Mr Comey.
"Russian collusion is a farce," Mr Bannon said of suggestions that Trump campaign aides collaborated with a Kremlin plot to defeat Hillary Clinton in last year's election. But he said he does not believe the special counsel should be fired.
The former White House chief strategist also turned his fire on Republican congressional leaders Paul Ryan and Mitch McConnell. He accused them of "trying to nullify the 2016 election".
"They do not want Donald Trump's populist, economic nationalist agenda to be implemented," Mr Bannon told 60 Minutes. "It's obvious as night follows day."