Mujica's wife Lucia Topolansky becomes Uruguay's vice-president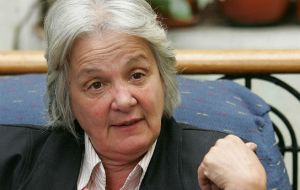 Uruguay has a new vice-president following the resignation of the questioned and discredited Raul Sendic. On Wednesday mid-morning, Lucia Topolansky, wife of ex president Jose Mujica received unanimous support from the General Assembly (123/123). Under the Uruguayan constitution the head of the most voted Senate group of the winning party in the last election, in this case the MPP (Popular Participation Movement), leads in the presidential succession line. She is the first woman to occupy such a post.
The General assembly session convened at 10:00 in the morning and following a brief recess, at 10:40 Senator Lucia Topolansky took the oath of office. Apparently there was a previous political agreement of no speeches on the occasion to avoid debating about outgoing Sendic's attitude whose conduct was seriously questioned as "unacceptable in ethical and political terms" by the ruling coalition given his penchant for fancy clothes, perfumes, hotels and other extravagant expenditures.
The first task of vice-president Topolansky was to have the Senate approve president Tabare Vazquez trip next week to New York to participate in the UN General Assembly.
When this happens over the weekend, Topolansky will become acting president, and a second lady, Senator Patricia Ayala will move up and become acting vice-president.
When the ceremony and first vote were over, Topolansky's husband and Senator Jose Mujica claimed that "now not only have I to deal with my age, I also have the complication of home. You see with time you come to realize the significance of a cozy home, the rest is nonsense".
Sendic who communicated his resignation to the General Assembly in a brief three line letter, alleging "personal reasons" for his decision, congratulated his successor: "Lucia, a woman, a life-fighter now head of parliament: I wish you a very good performance and support for the happiness of the country".
However despite the ruling coalition's decision to downplay the whole incident, deep scars remain and splits as to how the Sendic resignation was addressed, particularly by the Conduct and Ethics committee lapidary report, which allegedly despite a secrecy vow was leaked to the media in advance.
The Uruguayan ruling coalition is a catch all political grouping extending from ex guerrillas, communists and Trotskyites to Christian Democrats, Marxist Socialists and Social Democrats.