Falklands: Substantial progress with seal mitigation in Calamari fishery
Friday, September 15th 2017 - 07:23 UTC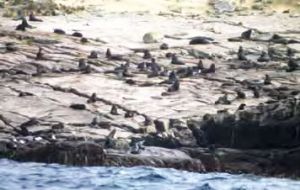 By Senior Fisheries Scientist Dr Alexander Arkhipkin - The Department of Natural Resources (Fisheries) has reported that seal mortalities were brought to negligible levels thanks to recent mitigation measures. Since the end of August, all Loligo trawlers were required to have seal exclusion devices (SEDs) in their trawls.
The approved SED consists of a metal grill located just before the codend of the trawl and escape hatch on the top of the net. This device prevents the seals from being trapped in the codend, and allows them to safely escape from the net during fishing and hauling.
To eliminate any possibility of unreported mortalities, the Exclusion Zone around Beauchene Island was banned for fishing unless a trawler has a fisheries observer onboard. The fishing companies responded quickly to organize arrival and placement of independent observers from MRAG (London) and Capfish (Capetown) to every trawler in the fishery. The Observers report directly to the Natural Resources Department.
Since last Sunday, fishing and seal mitigation is monitored on every vessel, with presence, abundance and interaction of seals reported daily to Fisheries. Vessels also improved their work practices to deal with entrapped seals by giving them more time to find their escape route via the SED while the net is still in the water.
The reasons for a sudden increase in seal interactions this year are being investigated. To check the idea expressed recently by local conservationist Ian Strange, the Fisheries Patrol vessel was sent to Beauchene Island.
Huge swell prevented any landing, but the Fisheries Officer and Scientific Observer circumnavigated the island in the RIB and counted between 400 and 500 fur seals resting on the beaches!
Another visit in summer is planned to reveal if a breeding colony of fur seals has been finally re-established there since its complete extermination by sealers about 100 years ago. (Penguin News)