Theresa May scolds president Trump on London terror attack tweets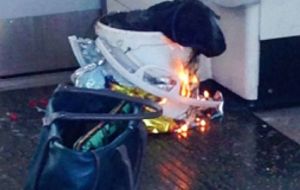 British Prime Minister Theresa May has rebuked US President Donald Trump for suggesting suspects in Friday's London train blast were known to police. "I never think it's helpful for anybody to speculate on what is an ongoing investigation," she said.
In a tweet, Mr. Trump described the attackers as "loser terrorists" and "sick and demented people who were in the sights of Scotland Yard". The bomb rocked a London Underground train, injuring 29 people.
In a phone call with Mrs May on Friday, Mr Trump "pledged to continue close collaboration with the United Kingdom to stop attacks worldwide targeting innocent civilians and to combat extremism", the White House said.
A Downing Street spokesman said he also offered "his condolences over this morning's cowardly attack in London", which he described to reporters earlier as "a terrible thing".
The call followed Mrs May's critical remarks about the US president. In one of his tweets, Mr Trump appeared to chide UK authorities: "Must be proactive!"
London police said of his comments, "any speculation is unhelpful".
Nick Timothy, a former senior aide to British Prime Minister Theresa May, echoed London police's comments. "True or not - and I'm sure he doesn't know - this is so unhelpful from leader of our ally and intelligence partner," he tweeted.
Former Conservative MP Ben Howlett also weighed in, calling Mr Trump's tweets "dangerous and inappropriate".
Trump also renewed a call to shut down internet capabilities, which he said were a main recruitment tool for terrorists. During the Republican presidential campaign in 2015, Trump suggested he would ask Microsoft founder Bill Gates to cut off the internet because of terror recruitment.
"We're losing a lot of people because of the internet," Trump said at the time, without elaborating. "We have to see Bill Gates and a lot of different people that really understand what's happening."
"We have to talk to them about, maybe in certain areas, closing that internet up in some ways," he added.