Spain pledges to keep border "fluidity" with Gibraltar following Brexit
Monday, September 18th 2017 - 09:33 UTC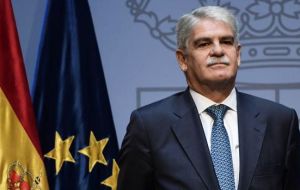 Spain's Minister for Foreign Affairs, Alfonso Dastis, sought to reassure cross-border workers during a visit to La Linea, insisting Madrid would work to minimize the impact of Brexit on Spanish citizens, "and very especially those from the Campo and La Linea" who cross every day to Gibraltar.
Dastis signaled that Spain would seek to ensure frontier fluidity after Brexit. "We are not going to implement any visa and as for fluidity, we are confident that this situation will not be an obstacle," he said. Nonetheless he cautioned that outside the EU, there may be a need for tighter controls as a result of the security situation.
"Our will is for there to be no worsening of circumstances for people living in the Campo, and less so for people who work in Gibraltar and cross every day," he said.
Dastis was speaking in La Linea's town hall, where he addressed guests from across the political and business communities in the Campo before speaking at an event organized by the Grupo Joly, which publishes Europa Sur newspaper.
Reacting to concerns about border flow expressed by La Linea mayor Juan Franco, the Spanish foreign minister said: "I can assure you that we are not going to close the [border] fence."
"I hope that there won't be a hard Brexit, but we want to maintain the best relations with the United Kingdom and we don't want to inconvenience or create a prejudicial situation for the citizens of this area."