Hurricane Maria flattens Dominica: "we need help, we need help of all kinds"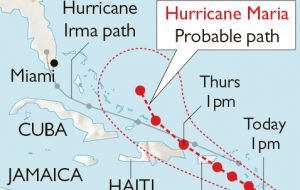 The British Overseas Territory of Dominica has suffered "widespread damage" from Hurricane Maria, Prime Minister Roosevelt Skerrit announced. "We have lost all that money can buy," he said in a Facebook post. The hurricane suddenly strengthened to a "potentially catastrophic" category five storm, before making landfall on the Caribbean island.
Earlier Mr Skerrit had posted live updates as his own roof was torn off, saying he was "at the complete mercy of the hurricane".
"My greatest fear for the morning is that we will wake to news of serious physical injury and possible deaths as a result of likely landslides triggered by persistent rains," he wrote after being rescued.
Maria is moving roughly along the same track as Irma, the hurricane that devastated the region this month. It currently has maximum sustained winds of 250km/h and has been downgraded to a category four hurricane after hitting Dominica. However, it could increase again as it moves towards Puerto Rico and the Virgin Islands, according to forecasters.
Dominica's PM called the damage "devastating" and "mind boggling".
"My focus now is in rescuing the trapped and securing medical assistance for the injured," he said, and called on the international community for help. "We will need help, my friend, we will need help of all kinds."
All ports and airports are closed and residents near the coast have been ordered to go to authorized shelters. The nearby island of Martinique has declared a maximum-level alert while another French island, Guadeloupe, ordered evacuations.
Hurricane warnings are in place for Guadeloupe, St Kitts and Nevis, Montserrat, the US Virgin Islands, the British Virgin Islands and Puerto Rico.