Civil disobedience escalates in Catalonia as Madrid stamps on independence referendum logistics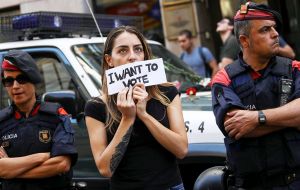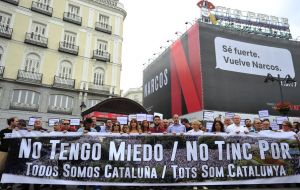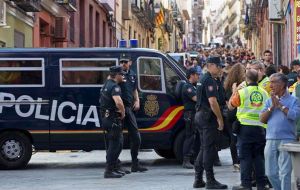 Spain's prime minister called on Wednesday on Catalan separatist leaders to end their "escalation" as several thousand people took to the streets of Barcelona to protest at Madrid's attempts to stop a banned referendum on independence.
"Stop this escalation of radicalism and disobedience once and for all," Mariano Rajoy said in a televised statement as protesters remained in the centre of the Mediterranean seaside city after a day-long demonstration that headed into the night. "There is still time to avoid bigger problems."
Shouting "we will vote," independence supporters started their gathering on Wednesday morning after police detained 14 Catalan government officials, raising tensions as Madrid pulls out the stops to prevent regional separatist leaders from holding the vote on October 1.
They refused to move as the day wore on, further angered by an announcement by the interior ministry that police had seized "close to 10 million ballot papers" destined for the vote outlawed by the central government.
Over in Madrid, hundreds of supporters of the referendum gathered in solidarity in Puerta del Sol square, which hosted scores of anti-austerity protests during the Spanish economic crisis.
Among those arrested by the Guardia Civil police was Josep Maria Jove, secretary general of economic affairs and Catalonia's deputy vice president, a regional government spokesman said.
The others work in various Catalan government departments and are suspects in a probe into "disobedience, misfeasance and embezzlement", the High Court in Catalonia said.
Launched in February, the probe centers around allegations that confidential data was stolen to provide separatists with information on Catalan taxpayers, a judicial source revealed.
Catalan President Carles Puigdemont condemned the "totalitarian and undemocratic attitude of the Spanish state." He accused Madrid of imposing a "de facto" state of emergency to stop the referendum.
In central Barcelona, several thousand people were still gathered in front of Jove's office late on Wednesday evening, some draped in red and yellow Catalan flags.
Earlier, to shouts of "Get out, get out, get out Spanish police," hundreds had also gathered in front of the headquarters of the radical CUP party, part of Catalonia's ruling separatist coalition, where police had said they were carrying out an unspecified "operation."
Barcelona Mayor Ada Colau, called on people to continue protesting "peacefully" against what she labeled Rajoy's "repressive strategy". Rajoy retorted that the referendum was "radically undemocratic" and asked separatist leaders to give up their "impossible pipe dream."
Polls show that while Catalans are sharply divided on whether they want independence or not, a large majority would like to vote to settle the matter.
But Madrid is against it, pointing to the constitution which states that the unity of the Spanish nation is "unbreakable" and that only the central government has the power to call a referendum on any matter.
Separatists in Catalonia, a region with its own language and customs, have responded they have a democratic right to decide on their future.
The police operation comes a day after officers seized over 45,000 notifications destined for Catalans selected to staff polling stations. Madrid has also suspended all leave and vacation for police deployed in Catalonia until October 5.
Pro-separatist parties captured 47.6 percent of the vote in a September 2015 Catalan election which was billed as a proxy vote on independence, giving them a narrow majority of 72 seats in the 135-seat Catalan parliament. But a survey commissioned by the regional government in July showed that 49.4% of Catalans were against independence while 41.1% were in favor.