European Parliament Brexit negotiator visits Ireland to address border issue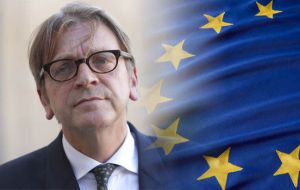 The European Parliament's Brexit negotiator, Guy Verhofstadt, has said it is up to the UK to find a way to avoid new controls on the Irish border, which echoes the position already laid out by the EU's chief negotiator, Michel Barnier. Mr. Verhofstadt is in Northern Ireland to meet political leaders at Stormont ahead of a visit to the Irish border.
He will also meet business and community leaders in the Armagh-Monaghan border area. Mr. Verhofstadt is the link between EU negotiators and MEPs. Although he is not directly involved in the Brexit negotiations, any deal between the EU and UK will need to be approved by the European Parliament.
The former Belgian prime minister is on a two-day visit to Ireland: He is set to meet Irish Prime Minister Leo Varadkar and address a joint committee of the Irish Parliament today, Thursday.
Speaking in the Dáil (Irish parliament) on Wednesday, Mr. Varadkar said it would be "useful" if the Northern Ireland Executive and Assembly were to meet and say they did not want a trade border, rather than leave it for politicians in London to speak for them.
"The resurrection of the border problem is the consequence of the decision of Britain to leave the union," said Mr. Verhofstadt. "So it is their responsibility to come forward with solutions."
He said he had heard it suggested that Northern Ireland could remain part of the single market and the customs union and the problem would be solved. "But the point is the UK government has to come forward with a proposal that solves the problem," he added.
Verhofstadt also discussed his proposal that people from Northern Ireland could elect MEPs in the Republic of Ireland after Brexit. People born in Northern Ireland are entitled to Irish - and hence EU - citizenship.
Verhofstadt said there was a "fair question" about how those people would continue to participate in EU democracy. But the DUP (in coalition with PM May in Westminster) has rejected his idea, which was also met with skepticism when he raised it in a European parliamentary committee earlier this year.
Democratic Unionist MEP Diane Dodds said her party wanted a "seamless" border, but rejected the suggestion that Northern Ireland could remain in the single market, or customs union. "We will not countenance a solution that makes us different from other parts of the United Kingdom," said Mrs. Dodds.
The parliament's resolution on Brexit states that it is "especially concerned" by the impact on Northern Ireland and that is "crucial" to preserve the 1998 Good Friday Agreement in all its parts. Verhofstadt has previously said: "we will never accept a hard border again between Northern Ireland and the Irish Republic"