Merkel heading for a fourth term running, but an extreme-right party is poised to enter parliament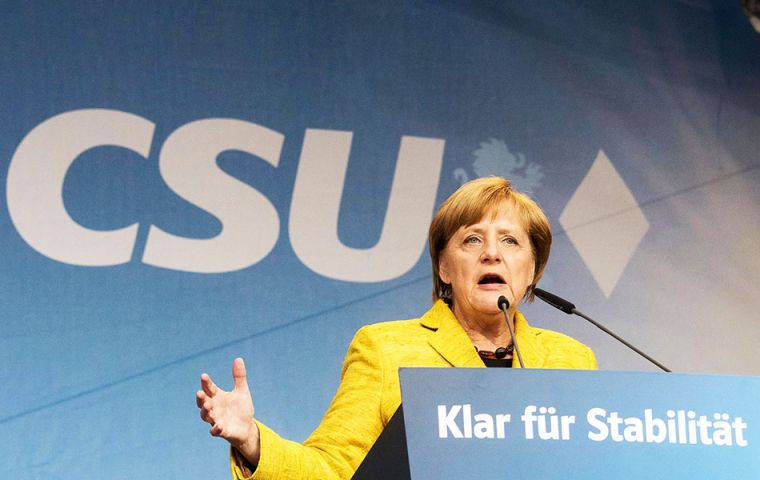 German Chancellor Angela Merkel looks almost certain to clinch a fourth term in the general election next Sunday while a far-right party is poised to enter parliament for the first time since the end of World War II.
Latest opinion polls conducted just days before the election unanimously forecast that 62-year-old Merkel, who has been in power since 2005, will remain at the helm of the next government irrespective of which coalition will be formed after the election.
Merkel's conservative bloc, that comprises her Christian Democratic Union (CDU) and its Bavarian ally Christian Social Union (CSU), will emerge as the largest group in the next Bundestag — the lower house of parliament — and no coalition will be possible without the conservatives.
They will have the best chance to form the next government picking their preferred partner, according to opinion polls. The two parties together are expected to poll around 37% of the votes on September 24 compared to 20% forecast for Merkel's main challenger Martin Schulz and his Social Democratic Party (SPD).
Schulz has been lagging far behind Merkel in opinion polls during the past several months and he lost more ground after the only televised debate of the election campaign between the two main contenders three weeks ago. Schulz, who until January was president of the European Parliament, no longer poses a threat to Merkel's re-election aspirations. Only around 25% of voters interviewed in opinion polls favored him as the next chancellor compared to more than 50% who wanted Merkel to remain in office.
Opinion polls also unanimously forecast that the anti-migrants far-right party Alternative for Germany (AfD) will enter the Bundestag for the first time in Sunday's election while the liberal Free Democratic Party (FDP), which lost its parliamentary representation in the last general election in 2013 for failing to poll the minimum five per cent of votes, will re-enter the lower house.
The AfD, which is forecast to receive up to 12% of the votes, might become strong enough to replace the Left party as the third largest group in the Bundestag after the conservatives and the Social Democrats, according to the polls.
Public support for the Left party has been steadily eroding in the past months and now it can hope of receiving only around 9% of the votes. The liberal FDP is expected to poll around 10% and thereby become the fifth largest group ahead of the Green Party, which may receive around 7.5%.