Secretary of State for Scotland on a three/day visit to Argentina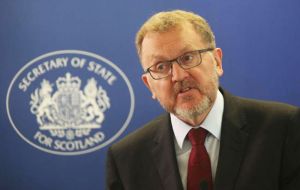 The Secretary of State for Scotland, David Mundell, will start an official visit to Argentina during which he will hold meetings with national authorities, private sector representatives, and members of the civil society. The purpose of his trip to South America, which started on Tuesday with a visit to Paraguay, is to promote Scottish business interests and build cultural and educational links.
Before the trip, Mr. Mundell said: As we are prepare to leave the EU, we want to build and strengthen our trade relationships with friends and partners old and new, and I am certain Scottish companies will be at the forefront of this. Scotland's skills, products and services are highly regarded globally, and we can build on that as we strike ambitious new trade deals around the world. I am travelling to South America this week to bang the drum for Scottish businesses, taking the message to these markets that Scotland's companies have the skills, products and expertise they need.
UK companies have an extensive presence in Argentina, with enormous scope to expand, particularly in new technology and in oil and gas, areas where Scottish firms are among the best in the world. There are also strong cultural links between Scotland and Argentina, including through the Edinburgh Festivals, and I very much look forward to cementing these links.
Scottish firms already do substantial business in South America - Scotch whisky, for example, exports more than £14 million and £12 million a year to Paraguay and Argentina respectively. Scottish agritech companies are also keen to create opportunities in the region's dynamic agricultural sector.
In addition, Mundell announced a new Scottish business taskforce that will help advise the UK Government on economic and industrial policy. Former UK Government minister Andrew Dunlop has been commissioned by the Scottish Secretary to chair a group made up of leading figures with expert knowledge of Scotland's business and economy.
In Argentina, Mr. Mundell will meet cultural organizations, host a whisky tasting for business leaders and community groups, and meet a number of local businesses. He will also visit San Andrés University to hear about their links with St Andrew's University, and attend a commemoration to mark Argentine pilots' contribution to the Battle of Britain and the II World War.
This is the second visit to Argentina by a member of the UK Cabinet this year, following the mission headed by the Chancellor of the Exchequer at the beginning of August.