Brazil elections in 2018, for the first time will be observed by OAS
Saturday, September 23rd 2017 - 10:36 UTC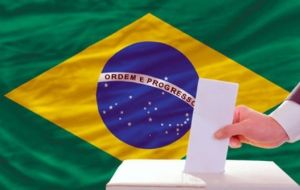 The Organization of American States (OAS) will deploy an Electoral Observation Mission to Brazil's general elections scheduled for October 2018. It will be the first time the hemispheric organization observes elections in Brazil.
OAS Secretary General Luis Almagro expressed satisfaction at the decision, "It is a great step that the largest South American country is relying on us in such a momentous event as the next general election. It is testament to the openness of Brazil and its authorities and to the recognition of the professional caliber of our observation missions", he said.
The Superior Electoral Court of Brazil, through the Permanent Mission of Brazil to the OAS, sent a formal invitation to the Secretary General on September 19th, 2017. Brazil will be the 28th country to receive an OAS Observation Mission.
The Secretary General will immediately begin preparations for the Mission, including contacting donors to secure the finances needed. OAS electoral observation missions cannot be financed with resources from the host country.