Moody's downgrades UK credit rating on concerns about public finances and Brexit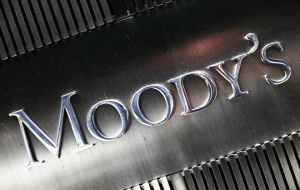 UK's credit rating has been cut over concerns about the country's public finances and fears Brexit could damage the country's economic growth. Moody's, one of the major ratings agencies, downgraded the UK to an Aa2 rating from Aa1.
It said leaving the European Union was creating economic uncertainty at a time when the UK's debt reduction plans were already off course. Downing Street said the firm's Brexit assessments were "outdated".
The other major agencies, Fitch and S&P, changed their ratings in 2016, with S&P cutting it two notches from AAA to AA, and Fitch lowering it from AA+ to AA.
Moody's said the government had "yielded to pressure and raised spending in several areas" including health and social care. It says revenues were unlikely to compensate for the higher spending.
The agency said because the government had not secured a majority in the snap election it "further obscures the future direction of economic policy".
It also said Brexit would dominate legislative priorities, so there could be limited capacity to address "substantial" challenges, adding that "any free trade agreement will likely take years to negotiate, prolonging the current uncertainty for business".
Moody's has also changed the UK's long-term issuer and debt ratings to "stable" from "negative". Moody's stripped Britian of its top-notch AAA rating in 2013.
The government said the latest downgrade followed a meeting on 19 September, and did not consider the prime minister's speech on Friday, in which she outlined her vision for Brexit.
"The prime minister has just set out an ambitious vision for the UK's future relationship with the EU, making clear that both sides will benefit from a new and unique partnership," it said.
But Labour's shadow chief secretary to the Treasury, Peter Dowd, called the downgrade a "hammer blow" to the economic credibility of the Conservatives and Chancellor Philip Hammond. He pointed out that it was the second time the credit rating had shifted downwards under their government.