Carnival contracts the building of a new 'Queen class' cruise vessel for Cunard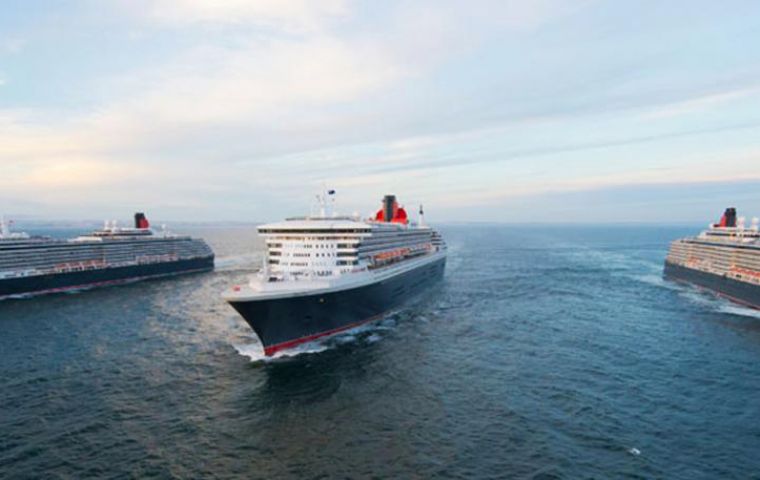 Carnival Corporation & plc announced that it has signed a memorandum of agreement with Italian shipbuilder Fincantieri S.p.A. to build a new cruise ship for the company's iconic Cunard brand. The new ship for Cunard will be built at Fincantieri's shipyard in Monfalcone, Italy, with an expected delivery date in 2022.
The as-yet-unnamed ship will join Queen Mary 2, Queen Victoria and Queen Elizabeth as the fourth member of the Cunard fleet, marking the first time since 1998 that the luxury cruise brand will have four ships in simultaneous service.
The new cruise ship will be the 249th ship to fly the Cunard flag since the company's founding in 1839. Cunard will announce additional details about the new ship starting in 2018.
With this new ship agreement, Carnival Corporation now has 18 new ships scheduled to be delivered to its portfolio of leading global cruise brands between 2018 and 2022.
"We are very pleased to announce a fourth ship for our immensely popular Cunard brand, which is also one of the most legendary brands in the entire vacation industry," said Arnold Donald, CEO of Carnival Corporation.
"Cunard offers a fleet of unrivaled vessels and one of the most unique travel experiences in the world, which together create an enchanting and memorable vacation for our guests. While today's news helps drive Cunard's overall strategic growth plans, we also look forward to launching this next-generation cruise ship to help meet increasing global demand and entice even more travelers to explore the Cunard experience."
The new ship agreement to build a fourth ship for Cunard extends the brand's recent strength and momentum in the marketplace, including attracting crowds of more than one million people to celebrate its 175th anniversary in 2015 and investing the equivalent of US$172 million in the past two years to refurbish the flagship Queen Mary 2 and Queen Victoria.
"With this agreement we once more link our company's name with Cunard's, a real icon of the cruise market, confirming us as shipbuilders able to combine tradition and innovation like no one else in the world," said Giuseppe Bono, CEO of Fincantieri.
"It is a lasting journey that, besides the construction of the two authentic queens like Queen Victoria and Queen Elizabeth, stresses the importance of our partnership with Carnival Corporation."