Scotland and London hold "constructive talks", but still far from a Brexit deal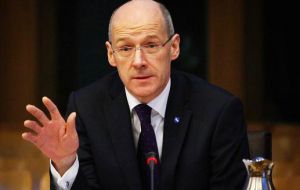 The Scottish and UK governments have held "constructive" talks over Brexit, but are still a long way from a deal. Scotland's Deputy First Minister John Swinney and Brexit minister Mike Russell met First Secretary of State Damian Green in London to discuss concerns about the EU Withdrawal Bill.
UK ministers have said it is time to "get serious" about the issues, but the Scottish government is seeking changes to the legislation for taking the UK out of the EU. It has described the legislation as a "power grab" and has said it will not ask Holyrood to give consent to the bill in its current form.
The UK government has insisted that Holyrood will see "significant" new powers devolved after Brexit.
After an hour of talks in London, both sides said the meeting had been "constructive" but conceded there is still a long way to go before any deal can be reached.
The dispute stems from what happens to powers which are currently not reserved to the UK government, but which are exercised from Brussels. UK ministers want them to go to Westminster in the first instance, before some are incorporated into UK-wide frameworks and others are sent on to the devolved administrations.
Both the Welsh and Scottish governments say this plan would undermine the founding principle of devolution, that any powers which are not specifically reserved to Westminster should be devolved. They do not oppose UK-wide frameworks, which UK ministers say are necessary to prevent trade barriers developing within the internal UK market, but say they want them agreed jointly.
Following the meeting, Mr Swinney said it had been a "useful opportunity for an exchange of views", but said there was still some way to go towards a deal.
"The discussions were constructive but we remain absolutely clear that, as things stand, we will not recommend to the Scottish Parliament that it gives its consent to the EU Withdrawal Bill.
"We made clear, we are not opposed in principle to UK-wide frameworks in certain areas - but this must be on the basis of agreement among equals, not imposed by Westminster.
"The bill as currently drafted is impractical and unworkable. It is a blatant power grab which would take existing competence over a wide range of devolved policy areas, including aspects of topics like agriculture and fishing, away from Holyrood, giving them instead to Westminster and Whitehall.
"That means that unless there are serious and significant changes to the proposed legislation, we will not recommend that the Scottish Parliament give consent to the bill."
Mr Green said he was "cautiously optimistic" a way forward could be agreed. He said: "I said that it was time for the talks to get serious and today they have got serious".