Saudi Arabia women hail decision allowing them to drive: great victory
Thursday, September 28th 2017 - 23:43 UTC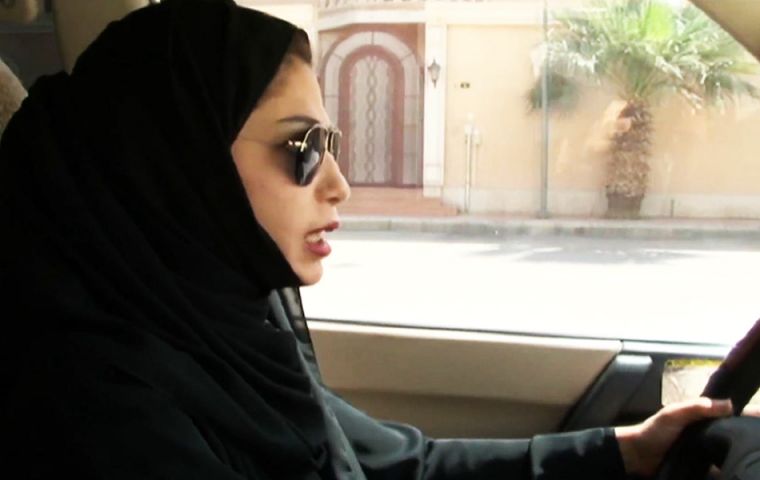 Campaigners in Saudi Arabia have hailed King Salman's decree allowing women to drive for the first time. One female activist called it a "great victory", while another said things would "never be the same again", and the country's US ambassador has described the move as "the right decision at the right time".

The Gulf kingdom is the only country in the world that bans women from driving - and women are still subject to strict dress codes and gender segregation. Until now, only men were allowed licences and women who drove in public risked being arrested and fined.

Latifah Alshaalan, a member of the Shura council, a government advisory panel, told broadcaster Al Arabiya: "This is a great victory for many Saudi women. This was the one file and issue which Saudi women have fought not just years, but decades for."

The country's US ambassador, Prince Khaled bin Salman, confirmed that women would not have to get male permission to take driving lessons, and would be able to drive anywhere they liked.

Rights groups in the kingdom have campaigned for years to allow women to drive, and some women have been imprisoned for defying the rule. Female activists organised collective protests in 1990, 2011 and 2013, and posted online videos of themselves driving. And in recent years, some members of the Saudi royal family have expressed support for ending the ban.

The move was welcomed by the US state department, which called it "a great step in the right direction", and UN Secretary General Antonio Guterres echoed the sentiment.

Not everyone reacted positively, however, with conservative voices accusing the government of "bending the verses of Sharia".

The hashtags "I am my own guardian" and "Saudi Women Can Drive" quickly gained traction on social media - but so did the hashtag "the women of my house won't drive".

Saudi law enforces a strict form of Sunni Islam known as Wahhabism and is known for its gender segregation rules.

Women have to adhere to strict dress codes, must not associate with unrelated men, and if they want to travel, work or access healthcare they must be accompanied by - or receive written permission from - a male guardian.