Barcelona plays La Liga match behind closed doors; Barca players with Catalan colors and Las Palmas the Spanish flag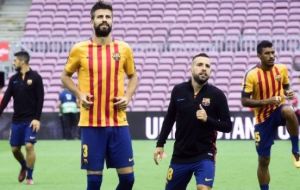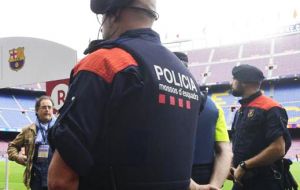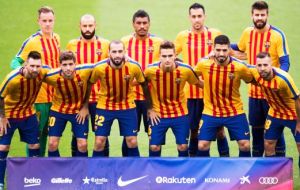 Barcelona's La Liga game against Las Palmas was played behind closed doors as a protest after their request for it to be postponed in light of Catalonian independence referendum was rejected. The Spanish government pledged to stop a poll declared illegal on a day of violent protests and unrest.
Barca took the decision to play behind closed doors 25 minutes before kick-off, with thousands of fans outside. The league leaders cruised to a comfortable 3-0 victory.
A statement from La Liga said the match should take place as normal because the security and safety of fans had been "guaranteed" by the Catalan police.
In a strongly worded statement on their website before the 15:15 BST kick-off, Barcelona said they had wanted to postpone the match in light of the political situation.
The statement said: "FC Barcelona condemns the events which have taken place in many parts of Catalonia today in order to prevent its citizens exercising their democratic right to free expression.
"Given the exceptional nature of events, the board of directors has decided that the FC Barcelona first-team game against Las Palmas will be played behind closed doors following the Professional Football League's refusal to postpone the game."
During the game, the scoreboard at the Nou Camp carried a picture of a ballot box and the word 'democracy' on it.
"The league refused and threatened a heavy sanction - presumably the six-point penalty which has been reported.
"So Barca reluctantly agreed to play the game but, as a sign of protest, they insisted it could only take place behind closed doors."
Barcelona easily won the game thanks to two goals from Lionel Messi and one from Sergio Busquets.
Barcelona's players emerged from the tunnel at the Nou Camp wearing a yellow-and-red-striped club training shirt - the colors of the Estelada flag associated with Catalan independence.
But Barca's opponents Las Palmas had the Spanish flag embroidered prominently onto their match shirts to state their support for a united Spain.
Earlier in the day, Barcelona defender Gerard Pique posted a picture on Twitter of him voting in the referendum. Pique tweeted: "I have already voted. Together we are unstoppable defending democracy."
After the match, an emotional Piqué said he would retire from international football before the World Cup if his support for the independence referendum is deemed a problem.