Monarch Airlines bankrupt; Gibraltar prepares "prudent" contingency plans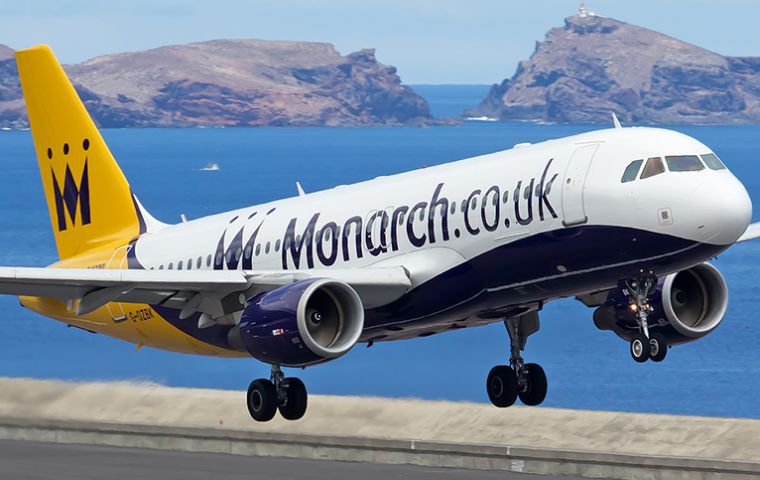 Monarch Airlines has ceased trading and all of its future bookings have been cancelled, the UK's Civil Aviation Authority has said. Around 110,000 Monarch customers are currently overseas and the UK government has asked the CAA to charter aircraft to bring them back to the UK.
In Gibraltar, a Civil Contingency group met on Sunday to help the Government make 'prudent' plans to prepare for this eventuality. Monarch operated services from Gibraltar to Gatwick, Manchester, Luton and Birmingham.
Monarch is the UK's fifth biggest airline and the country's largest ever to go into administration. Customers in the UK due to fly have been told not to go to the airport.
Monarch had been in last-ditch talks with the CAA about renewing its licence to sell package holidays. It had until midnight on Sunday to reach a deal with the aviation authority but failed to do so.
The airline carried 6.3 million passengers last year to 40 destinations from Gatwick, Luton, Birmingham, Leeds-Bradford and Manchester airports.
Monarch, founded in 1968, employs about 2,500 people and is made up of a scheduled airline, tour operator and an engineering division.
Transport Secretary Chris Grayling said: "This is a hugely distressing situation for British holidaymakers abroad - and my first priority is to help them get back to the UK.
"That is why I have immediately ordered the country's biggest ever peacetime repatriation to fly about 110,000 passengers who could otherwise have been left stranded abroad."