Hammond challenges Labour "dinosaurs" to a great clash of ideas over the future of capitalism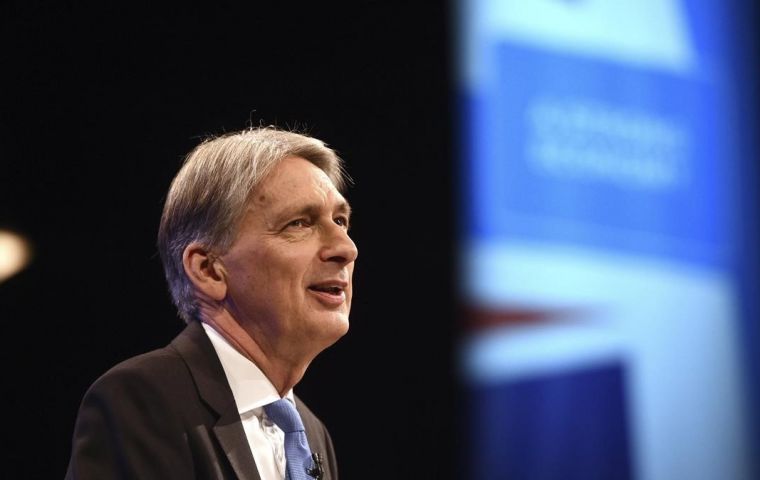 The Conservatives must take on and defeat Labour "dinosaurs" in a great "clash of ideas" over the future of capitalism, Philip Hammond has said, adding that activists must expose Jeremy Corbyn's "back to the future socialist fantasy" which was leading people "down a dangerous path".
The chancellor also said his party must address concerns over pressure on living standards and housing costs. And he announced £300m for rail improvements in the north of England. The new money will be used to ensure HS2 will link to faster trains between Liverpool and Manchester, Sheffield, Leeds and York - so-called Northern Powerhouse rail.
The chancellor used his keynote party conference speech in Manchester to mount a defense of free market economics, which he claimed was coming under assault from Jeremy Corbyn.
Describing the Labour leader and his shadow chancellor John McDonnell as "dinosaurs who had broken out of their glass cases", he said Labor's harking back to the "ideological experiments" of the 1970s presented a "clear and present" danger to the UK's future prosperity.
"They say politics is about the clash of ideas. So we say to Corbyn 'bring it on'," he said.
"Let them put their arguments, let them make their case. We will take them on. And we will defeat them. I promise you this: we will defeat them by the power of argument; by our logic; by the experience of history."
Hammond insisted the British economy was "fundamentally strong", with employment at a record high and income inequality at its lowest level for decades.
While the UK faced a number of challenges, including Brexit-related uncertainty, sluggish productivity and a housing sector which many people young people thought was "rigged" against them, he said free markets were the only, not merely the best, way to improve living standards and underpin free societies.
"While no-one suggests a market economy is perfect, it is the best system yet designed for making people steadily better off over time and underpinning strong and sustainable public services for everyone. "As this model comes under renewed assault, we must not be afraid to defend it."
For Labour, Shadow Chancellor John McDonnell said: "After seven wasted years of Tory economic failure... he is continuing down the path of his predecessor and clinging to an old economic model that fails the many.
"It was a speech that contained more baseless smears on Labour than Tory policy announcements. But it betrays how fearful the Tories are of the challenge posed by Jeremy Corbyn."
Carolyn Fairbairn, the director general of the CBI business group, said: "The chancellor has given a passionate defense of free markets and the importance of business and government working to tackle inequality. That is necessary, but not sufficient.
"The UK is facing a generation defining-challenge. A potent cocktail of Brexit uncertainty and dogma-driven politics on both left and right threatens jobs, investment and living standards. Now is not the time for half measures."