Falklands' spring fire and smokes recorded by NASA Aqua satellite
Wednesday, October 4th 2017 - 06:34 UTC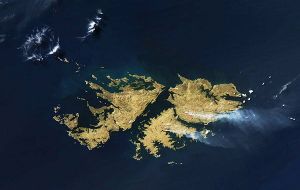 A satellite true-color image of fire and smokes in the Falkland Islands was recorded last 28 September with the Moderate Resolution Imaging Spectroradiometer (MODIS) aboard NASA's Aqua satellite.
NASA' MODIS report describes the Falklands as a British territory in the South Atlantic Ocean about 600 km east of Argentina and 1,350 km north of the Antarctic Circle. Comprised of 778 islands in total, the two largest islands are West Falkland and East Falkland. The island's rocky, hilly, and mountainous terrain gives way to boggy, undulating plains. Because of the near-constant wind and cool climate, few trees grow on the island.
Instead, grassland and heath dominate the vegetative landscape. About 92% of the land is used for agriculture, and most of the agriculture is based in raising sheep and some cattle. Indeed, the sheep and cattle far outnumber permanent human residents on the Islands.
In the early springtime, farmers often deliberately burn pastureland to encourage growth of fresh vegetation. When lambs are born, the ewes and young are moved to fresh grassland to graze. The fires in this image, seen as red hotspots and blowing smoke on East Falkland Island, are most likely prescribed or agricultural fires designed to improve pastureland.
Technical facts identifies the satellite as Aqua, with resolutions: 1 km (44.1 KB), 500m (58.2 KB), 250m (160.3 KB); bands used, 1,4,3 and Image Credit: Jeff Schmaltz, MODIS Land Rapid Response Team, NASA GSFC.