Tories rally round Theresa May in Manchester, but doubts about her future linger
Thursday, October 5th 2017 - 08:25 UTC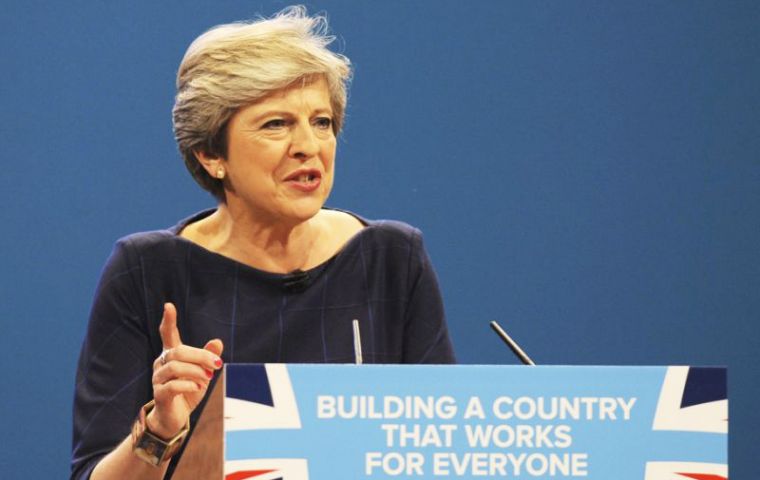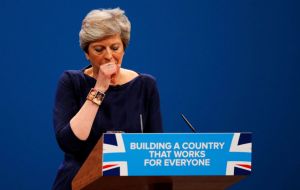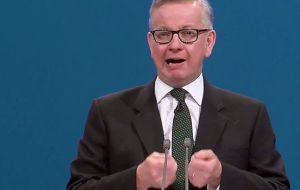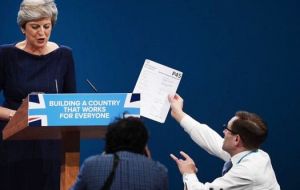 Tory MPs have rallied round Theresa May after her conference speech on Wednesday was marred by mishaps. James Cleverly said he was "proud" of the PM for contending with a persistent cough and a prankster and John Redwood said MPs backed her "strong message".
However, it is thought dozens of MPs are discussing the possibility of trying to persuade Mrs. May to stand aside. But it is not clear whether they will have enough support to move.
In the keynote address in Manchester - billed in advance as Mrs. May's opportunity to assert her authority after her decision to call a snap election backfired and amid continuing Brexit divisions within the party - she apologized to activists for her shortcomings during this summer's campaign.
She put forward a range of new policies, including an extra £2bn to build 25,000 new council houses and social homes for rent by 2021 and draft legislation for a cap on standard tariff energy bills, which she said were part of her mission to improve people's lives and promote a "British dream".
However, the aftermath of the speech was dominated by the prime minister's struggle in delivering it and questions about what it meant for her future.
A nagging cough and croaky voice forced the PM to almost stop on more than one occasion but she sought to make light of her troubles, cracking a joke when Chancellor Philip Hammond handed her a cough sweet.
Turning to Brexit, Mrs. May said she was "confident that we will find a deal that works for Britain and Europe". She also reassured European citizens living in the UK that "you are welcome here" and urged negotiators to reach agreement on this policy "because we want you to stay".
A succession of cabinet ministers, including Boris Johnson, Michael Gove and Jeremy Hunt, praised the speech afterwards. A Number 10 source confirmed it had received calls from colleagues "offering support" to the prime minister and declared "resignation is not an issue" for Mrs. May.
Mr Redwood, a former minister in John Major's government, said Mrs May had a "lot more to give" in her role and that in discussions with colleagues after the speech he detected a "lot of warmth and support for her".
"I and many Conservative MPs like me are fully behind her and we are sorry for her that her voice went at the wrong moment," he said. "We don't think that tells us very much about what she is going to do for the country which is what really matters. People feel, as I do, that it is a pity that her big day was spoilt by those two things.
"But we do not think it spoils the underlying message and the strong point she made to the party that it is our job to get on delivering a strong Brexit."
Tory MP Nadhim Zahawi said the PM had shown her "grit and determination" in the face of adversity and "of course" would stay on as leader. "When she gets a good deal from our Euro partners the whole narrative will change," he told Channel 4 News. "She is focused and will deliver."
Security at future Conservative events is to be reviewed after a comedian was able to get within yards of the prime minister and hand her a mock P45 redundancy notice.
Prankster Simon Brodkin - also known as his TV persona Lee Nelson - was arrested by Greater Manchester Police after briefly interrupting the PM and giving her a sheaf of paper he claimed was from Boris Johnson.
Brodkin, who also threw US dollar bills over former Fifa president Sepp Blatter during the football organization's bidding scandal, was later released, with the police saying he had "legitimate accreditation" to attend the event.
To add to Mrs May's woes, some of the letters fell off the conference stage backdrop behind her during the speech. By the end it read: "Building a country that works or everyon."
Labour seized on the confusion, publishing a spoof image on social media suggesting their opponents had run out of ideas, while also criticising Conservative housing and energy policies as limited and timid. Shadow chancellor John McDonnell said that there had been £15bn of pledges made by the end of the speech showing "the Tory magical money tree returns".
Lib Dem leader Sir Vince Cable called it "the speech of a brave prime minister struggling on, while her disloyal Cabinet colleagues openly plot against her"
And former Conservative deputy chairman Lord Ashcroft said there was an air of a party that did not "know what it is doing".
"One thing the week needed to do was take a step towards restoring the Conservatives' reputation for competence," he wrote on Conservative Home. "On that front, unfortunately, there is a way to go."