US researchers win Physics Nobel Prize for gravitational waves detection
Saturday, October 7th 2017 - 19:17 UTC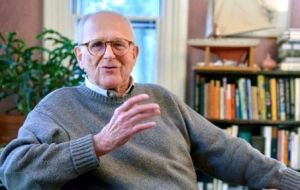 Three U.S. researchers won this year's Nobel Prize in physics for developing an observatory that made possible the detection of gravitational waves, ripples in space-time theorized by Albert Einstein 100 years ago, the Royal Swedish Academy of Sciences said.
The prize will be shared by German-born Rainer Weiss of the Massachusetts Institute of Technology, and Kip Thorne and Barry Barish of the California Institute of Technology for their "decisive contributions to the LIGO detector and the observation of gravitational waves."
"This is something completely new and different, opening up unseen worlds," the Royal Swedish Academy of Sciences said in a statement on awarding the 9 million Swedish crown (US$1.1 million) prize. "A wealth of discoveries awaits those who succeed in capturing the waves and interpreting their message."
The awarding of the prize came after an international team of scientists announced last year the detection of ripples in space-time from two colliding black holes.
Weiss and Thorne are pioneers of the LIGO project, while Barish took the lead in completing it.
Gravitational waves from the black hole collision 1.3 billion years ago were detected on Sept. 14, 2015, by twin Laser Interferometer Gravitational-Wave Observatory (LIGO) detectors in Louisiana and Washington sates, the LIGO Scientific Collaboration team said in February 2016.
The team said in June that it again detected gravitational waves from two colliding black holes on Dec. 26, 2015.
LIGO's L-shaped detectors use laser light split into two beams that travel back and forth down 4-km-long arms. The beams are used to detect infinitesimal changes in the distance between mirrors at the ends of the arms that are caused when gravitational waves pass by the detectors.
In his general theory of relativity in 1916, Einstein postulated the existence of space-time ripples caused by whirling massive objects. The two black holes that slammed into each other and were cited in the February announcement were estimated to be about 29 and 36 times the mass of our sun.
Japan has built a similar gravitational wave detector called Kagra in Gifu Prefecture. Takaaki Kajita, a Japanese scientist who won the 2015 Nobel Prize in physics, has been leading a project to search for gravitational waves using the giant detector.
The prize last year went to three British-born researchers who applied the mathematical discipline of topology to help understand the workings of exotic matter such as superconductors and super-fluids. In 2014, a Japanese and a Canadian shared the physics prize for studies that proved that the elementary particles called neutrinos have mass.
Physics is the second of this year's crop of Nobel Prizes and comes after Americans Jeffrey Hall, Michael Rosbash and Michael Young were awarded the Nobel Prize for Physiology or Medicine.