British parliamentarians visit Peru to promote trade, cooperation and security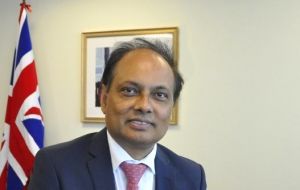 A group of British Parliamentarians visited Peru during September. The group, comprised of six members of both the House of Lords and the House of Commons, travelled to Latin America to look specifically at parliamentary and bilateral relations between the UK and Peru. The groups´ members were drawn from a range of political parties in Parliament.
The visit was hosted and organized by the British Embassy Lima and comprised meetings with four Cabinet Ministers. Trade Minister Ferreyros discussed the prospects for increased bilateral trade; Foreign Minister Luna hosted a lunch where they spoke about bilateral relationships; Interior Minister Basombrío spoke of the challenges in countering the threat of narco-terrorism and money laundering and Minister of Women Affairs Choquehuanca discussed at length the national registry of victims of forced sterilization in the 1990s.
The British group met the President of Congress, MP Luis Galarreta and Peru's Congressional UK-Peru Friendship League, lead by MP Paloma Noceda.
The parliamentarians also presented a book to the Peruvian Congress on regional integration and development policies, which was made possible by the British Embassy as part of the UK's technical assistance to the Pacific Alliance.
The British Ambassador to Peru, Anwar Choudhury, hosted a reception at his residence in order to welcome and introduce the parliamentarian delegation to their Peruvian counterparts. The event was also an occasion to strengthen links between the two countries. The delegation had the opportunity to visit the historic city of Cusco, where the parliamentarians had various meetings with the local government.
Speaking about the visit, Ambassador Choudhury said bilateral relations between Peru and the UK are at a high point, having seen a major step up over the last few years.
"Consolidating the links between our Parliaments is important, and I'm delighted to say that the UK-Peru Parliamentary Friendship League is the largest and most sought-after of its kind. We hope our democratic and parliamentary linkages will go on from strength to strength".