Qatar Airways named "Best Airline" at the Business Travelers Awards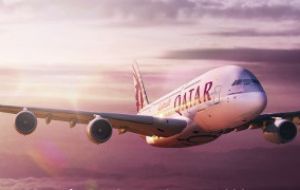 Qatar Airways has been named 'Best Airline' at the highly-respected 2017 Business Traveler Awards, held on Monday 9 October at London's Royal Garden Hotel in Kensington. In addition to being voted 'Best Airline' by travelers from around the world, Qatar's national carrier also won a raft of other major awards at the ceremony, including 'Best Airline in the Middle East,' 'Best Business Class' and 'Best Long Haul Airline.'

Qatar Airways Group Chief Executive, Mr. Akbar Al Baker, said: "I am extremely proud that Qatar Airways has been recognised in these four award categories. To be voted 'Best Airline,' 'Best Middle Eastern Airline,' 'Best Long Haul Airline,' and 'Best Business Class' by the readers of Business Traveller magazine is a significant testimony of our passengers' trust in what we stand for, placing them first at every stage of a journey."

Airline alliance OneWorld, of which Qatar Airways has been a member since 2013, also won the 'Best Airline Alliance' award for the fifth consecutive year, confirming oneworld's position as the world's premier global partnership.

Qatar Airways, which was earlier this year voted 'Airline of the Year,' 'World's Best Business Class,' 'Best First Class Lounge' and 'Best Airline in the Middle East' at the prestigious Skytrax Awards, continues to exceed expectations with its global expansion, strategy and product development.

Most notably this year, Qatar Airways launched Qsuite, its new innovative First in Business Class experience. The first aircraft fully-fitted with Qsuite was launched on the Doha-London route this summer, soon followed by Paris and shortly to feature on the airline's flights to New York.