US elimination of 2018 World Cup, a blow to Fox Sports and FIFA partners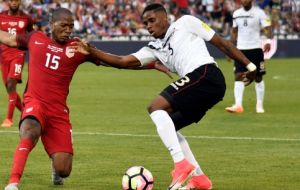 The United States men's soccer team was eliminated from World Cup qualifiers Tuesday, a shocking result that could leave sponsors and media partners in the lurch for millions of dollars. The US fell 2-1 on the road to Trinidad & Tobago. That result, coupled with wins by Panama and Honduras, eliminated the Americans from contention for a spot in the 2018 World Cup in Russia.

It's the first time since 1986 that the U.S. team failed to qualify for the most-watched sporting event on the planet. Any decrease in interest by American fans may have far-reaching effects for Fox Sports, which is paying more than US$400 million for the domestic English-language rights to the next two World Cups. Telemundo is spending about US$600 million for the Spanish-language rights.

Those broadcasts -- especially Fox's -- will likely see a decrease in viewership without the U.S. in contention. Fox and Telemundo won the rights to the 2018 and 2022 World Cups after bidding about four times as much as the previous contract held by Walt Disney Co.'s ESPN and Univision.

The U.S. loss "is a blow to Fox Sports' soccer ambitions," Steven Cahall, an analyst at RBC Capital Markets, said Wednesday in a note. "Had the U.S. made it, Fox would have televised at least three group-stage games with potential for more if the team made it into further rounds."

Ratings on ESPN soared three years ago when the U.S. team advanced out of the group stage, before falling to Belgium in extra time in the Round of 16. A decrease in interest would also affect FIFA's top World Cup partners, including Visa Inc. and Coca-Cola Co.

Fox Sports has said its 2018 World Cup coverage will be the largest production in the network's 24-year history. The plan includes over 350 hours of programming, more games on broadcast television than the last four World Cups combined and a studio set-up in Moscow's Red Square.

US's robust television markets and advertising infrastructure also make fans accessible for sponsors and broadcasters. Many of the top European clubs, like FC Barcelona and AS Roma, are also pouring resources into courting US fans.

US Soccer's corporate partners also paid to sponsor a team that will miss the month-long event. Those companies include Coca-Cola Co., AT&T Inc., Anheuser-Busch InBev, Johnson & Johnson, Nike Inc., and Liberty Mutual Group Inc.