Falklands' democracy and coming elections praised by FCO minister
Friday, October 13th 2017 - 13:55 UTC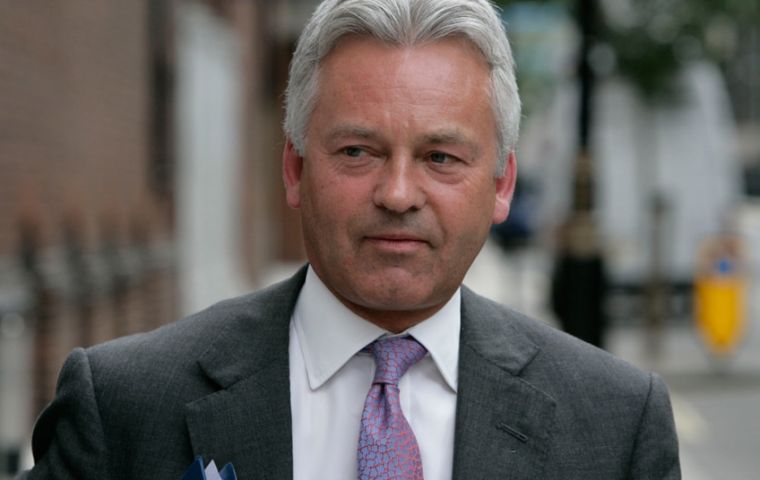 The Minister of State for Foreign and Commonwealth Affairs Alan Duncan has expressed his admiration for Falklands democracy. Speaking of the Islands General Election to be held on November 9 he said: "From many years of personal experience I can attest to the significance of democracy in action. Election Days are both exciting and purposeful and should provoke both qualities."
He said he wished to write to, "put on record my admiration for the way in which democracy works in the Falkland Islands.
"My portfolio as a foreign Minister is incredibly broad. Indeed, my portfolio is broad enough that I could travel from Vladivostok to Tierra del Fuego, via Europe and North America, and be the minister responsible across all of it.
"Amidst this broad area of responsibility, I am always keen to speak with Assembly Members. It is important that we work closely together. I am confident that this will continue with the new Assembly. Indeed, I am sure many of those reading this may be
considering whether to stand for election or not. I can confidently say, as someone with personal experience, that it is incredibly worthwhile. It is not always easy, but you have a real opportunity to help your community. I could not recommend it more highly. Even if you are not considering standing, I hope that you will be planning to vote."
The Minister also put on record his thanks to those Assembly Members who are not standing again Mike Summers, Phyl Rendell, Jan Cheek and Michael Poole.
He said: "They have represented your community with pride, going about their business in a practical and thoughtful manner. It has been a pleasure to work with all of them you and I wish them all the best for the future.
"Allow me to finish by wishing all of those taking part in the upcoming elections, from the candidates, to those in the polling stations and, of course, you the voters, all the very best. I look forward to working with your new Assembly and visiting the Islands to meet them in person as soon as I can". (Penguin News)