HSBC names John Flint as next CEO; JP Morgan Chase and Citigroup profits up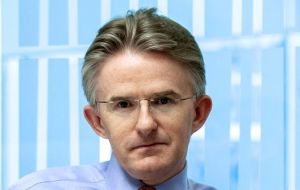 Banking giant HSBC has named John Flint, current head of retail banking and wealth management, as its new boss. Mr Flint, who takes over from outgoing chief executive Stuart Gulliver, will start his new role next February.
The move sees Europe's biggest bank once again promote a company insider to run the firm. The appointment is the first big decision by the bank's new chairman, ex-AIA Group boss Mark Tucker, who joined HSBC at the start of this month.
Mr Tucker said that the new incumbent, who takes over on 21 February 2018, had a "broad and deep banking experience across regions, businesses and functions".
He added: "Over the coming months, before he formally takes over the group CEO role from Stuart, we will be working closely together to develop and agree the key actions required to ensure we build on and enhance HSBC's current momentum."
Mr Flint, who has been at HSBC since 1989, said that the bank had to "innovate and accelerate the pace of change required" to meet the expectations of shareholders, customers and employees.
The 49-year-old had been widely tipped to take over in the hot seat, after Mr Gulliver announced his intention to retire during 2018. Mr Gulliver has been chief executive since 2011. After stepping down, he will continue to advise the bank until he formally retires on 11 October 2018.
Meanwhile two of United States' biggest banks have been hit by a drop in bond trading revenue in the three months to September, but profits still rose. JP Morgan Chase profits rose 7% to US$6.7bn compared with the same period last year, while Citigroup profits were up 8% at US$4.1bn. The banks had warned that trading revenues would be weaker compared to a post-Brexit surge last year.
Executives at both banks said they were encouraged by increasing strength in the global economy and were seeing benefits from gradually rising interest rates. However, both banks took a hit from recent natural disasters. JP Morgan said it expected recent hurricanes in the US to lead to about US$55m in losses, while Citigroup predicted about US$100m in losses, including the impact from earthquakes in Mexico.
The two are also setting more money aside to cover credit losses, although executives at both banks told analysts they were not worried about the economic health of consumers.
Both banks beat profit expectations, but analysts were not expecting their shares - which have gained this year - to change significantly. Citigroup share prices have increased 20% since January, while shares in JP Morgan have risen by about 10%.