Thousands rally in Barcelona: "Don't be fooled, Catalonia is Spain"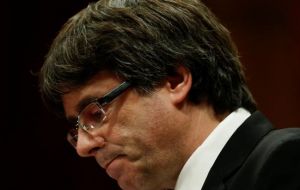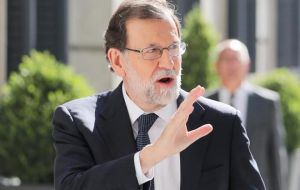 Thousands of people rallied on Sunday in central Barcelona to protest against the Catalan government's push for secession from the rest of Spain, with many in the crowd carrying Spanish and Catalan flags.
Some chanted "Don't be fooled, Catalonia is Spain" and called for Catalan president Carles Puigdemont to go to prison. The rally comes a week after Puigdemont and other separatist leaders of the Catalan government held a referendum on secession that Spain's top court had suspended and the Spanish government said was illegal.
The Yes side won the rather chaotic referendum with 90% of the vote, though fewer than half of the region's electorate voted.
Puigdemont has pledged to push ahead for independence anyway and is set to address the regional parliament on Tuesday "to report on the current political situation".
Spanish Prime Minister Mariano Rajoy has vowed that his government will not allow Catalonia to break away from the rest of the country.
In an interview with the Spanish newspaper El Pais on Sunday, Rajoy said that he will consider employing any measure "allowed by the law" to stop the region's separatists.
Rajoy said that includes the application of Article 155 of the Spanish Constitution, which would allow the central government to take control of the governance of a region "if the regional government does not comply with the obligations of the Constitution".
"The ideal situation would be that I don't have to find drastic solutions, but for that to happen there will have to be some rectifications (by Catalan leaders)," Rajoy said.
Large rallies were held on Saturday in Madrid, Barcelona and other cities to demand that Rajoy and Puigdemont negotiate to find a solution to Spain's worst political crisis in nearly four decades.
Pro-union forces are hoping to gather more steam with Sunday's protest in Barcelona after a series of large businesses, including Catalonia's top two banks, announced they were relocating their headquarters to other parts of Spain. Other companies are reportedly considering leaving Catalonia to avoid being cast out of the European Union and its common market in the case of secession.
Nobel Literature Prize laureate Mario Vargas Llosa and former president of the European Parliament Josep Borrell addressed Sunday's rally, organized by the pro-union grassroots group Societat Civil Catalana.
The most recent polls taken before the referendum showed that Catalonia's 7.5 million residents were roughly split over secession.
A member of Catalonia's separatist-led government has called for a "ceasefire" with Spain to decrease tensions after a disputed referendum on independence by the prosperous region. Santi Vila, Catalonia's regional chief for business, told Cadena SER Radio he is pushing for "a new opportunity for dialogue" under "a ceasefire" with Spanish authorities.
Vila said he is against Catalonia unilaterally declaring independence at the moment and wants to see a committee of experts from both sides working towards a solution to the crisis.
Vila said: "We have to give it one more chance, maybe the last chance, and perhaps the only way that can happen is to start with a ceasefire."
"We can all calm down and give ourselves the opportunity to not take any decisions and see what channels we can open up to start a serene dialogue."
The call for prudence came after some of Catalonia's most important banks and businesses announced they were relocating their headquarters to ensure the possible secession would not immediately knock them out of the European Union and its lucrative common market.
Meanwhile, thousands gathered in Madrid for a rally against the independence push, turning the Plaza de Colon into a sea of Spanish flags.
Vila said he would like to see Spanish authorities return powers to the region which they have assumed in recent weeks, including control of a large part of its finances. It is unclear how widespread his moderate position is inside the Catalan government, which is being pressured from separatist grassroots groups and the far-left party CUP to declare independence soon.