Catalonia's leader under mounting pressure from separatist allies and Madrid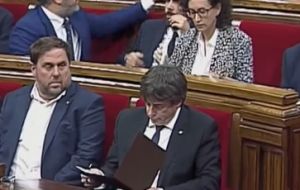 Catalonia's leader faced mounting pressure on Friday from all sides, with hardliners in the separatist movement demanding he declare independence from Spain once and for all. Spain's government and the European Union, on the other hand, want him to abandon the secession plans altogether.
Spain's deputy prime minister blamed Catalan president Carles Puigdemont for creating such economic uncertainty that a recession could be in the cards, and for sinking tourism figures. Soraya Saenz de Santamaría also said Spain's government is considering lowering the growth forecast for the Spanish economy in 2018 if the standoff in Catalonia continues.
The central government has given Puigdemont a Monday deadline to make clear whether he has already declared independence for the region and to fall in line with Spain's laws by October 19 if he wants to avoid losing some or all of the region's autonomous powers.
For Spain, Puigdemont simply has to say one of two words in his response. "It's just a yes or a no," deputy prime minister Saenz de Santamaria told reporters after a weekly Cabinet meeting. "It's in Puigdemont's hands" to avoid the extraordinary measures that would allow central authorities a partial or full suspension of the prosperous region's autonomy.
If Sr Puigdemont says he did declare independence, then he will have three more days to cancel any secession plans. If he refuses to, or does not answer, Rajoy has threatened to trigger for the first time a constitutional article that could give central authorities power to intervene directly in Catalonia.
In addition to pressure from Spain, two key allies of Puigdemont's government called on him to ignore the Spanish government's threats and press ahead with proclaiming a new republic.
The far-left separatist Catalan party CUP said in a letter dated on Friday that Puigdemont should ignore the Spanish government's warning, lift the suspension and definitively proclaim independence.
The Assemblea Nacional Catalana, or ANC, a civil society group that organised massive protests in support of secession, also issued a brief statement with a similar message. "It doesn't make sense to keep the suspension of the independence declaration" given Madrid's rejection of any dialogue, ANC said in the statement.