Argentina's Ferreira Rubio elected chair of Transparency International
Tuesday, October 17th 2017 - 11:59 UTC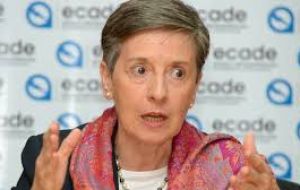 Delia Matilde Ferreira Rubio was elected chair of Transparency International, the global anti-corruption movement, at its Annual Membership Meeting in Berlin. Rueben Lifuka was elected as vice-chair, along with seven new board members. All will serve a three-year term.
"Globalization and technology have changed the nature of corruption. It is the role of Transparency International to face up to this changed world. Our work will be guided by our strong principles of transparency, integrity and accountability. We shall walk the talk and in this I will lead," said Ferreira Rubio.
Ferreira Rubio is from Argentina and was the former president of Transparency International's Argentine chapter, Poder Ciudadano.
She has served as chief advisor for representatives and senators at the Argentine National Congress and has advised the Constitutional Committee of both the House of Representatives and the Senate. Ferreira Rubio has a PhD in law from Madrid's Complutense University and is the author of numerous publications on democratic culture and parliamentary ethics. She served on the international board of Transparency International from 2008 to 2014.
Rueben Lifuka is from Zambia and is an architect and an environmental consultant. He is the founder and a director of the consultancy firm Dialogue Africa and chair of the National Governing Council of the Africa Peer Review Mechanism process in Zambia.
He was appointed by the Zambian President to the technical committee responsible for drafting the country's new constitution.
Lifuka served on the Transparency International board from 2008 to 2014 and was president of Transparency International Zambia from 2007 to 2012 and re-elected in 2017.
The elections took place as representatives of more than 100 chapters, the movement's Advisory Council and individual members came together for the Annual Membership Meeting to discuss their work around the world.