Argentina's Macri Let's Change coalition "clearly predominant" ahead of Sunday's midterm elections
Tuesday, October 17th 2017 - 11:26 UTC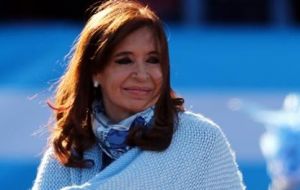 There is a "clear predominance" of president Mauricio Macri's "Let's Change" coalition in Argentina and in the crucial Buenos Aires province, ahead of next Sunday's (October 22) midterm elections, according to political analyst Sergio Berensztein.
"Looking at the province (of Buenos Aires) and the country Let's Change is predominant, but said this the province remains a complex scenario and we must be prudent about assessments"
The province of Buenos Aires concentrates 40% of the Argentine electoral roll, and has become the battle ground for Macri's Let's Change coalition and ex president Cristina Fernandez de Kirchner who is fighting for her political comeback and hopes of a presidential candidacy in 2019.
The province industrial belt has been hit by Macri's austerity measures including an end to subsidies and handouts, with loss of jobs, which are still waiting for the promised vigorous resurgence of the Argentine economy. It is here that Cristina Fernandez is concentrating her efforts taking advantage of much disenchantment with current business friendly policies.
"Many opinion polls give (Esteban) Bullrich (the incumbent senate candidate) an advantage which is similar to the margin of error, that is three points. Besides, much will depend how much of the electoral roll effectively vote on Sunday", warned Berensztein.
"The larger the turnout, the increased difference for hopeful Bullrich. But there is also a lot of doubts regarding the quality of supervision at the different polling stations. If you don't have an army of party supervisors, you could also face a difference...", explained the analyst.
Regarding Peronism, which is Argentina's leading political movement, and its chances next Sunday, Berensztein admitted they could be facing its worst election in the last three decades, "but his is because Peronism remains deeply divided".
"Cristina Fernandez leadership is contested and disputed. However if she manages to reach an understanding with the mayors of urban Buenos Aires province and other leaders such a Sergio Massa, (who has a solid one million votes), Peronism could begin to unite and become a strong opposition in Congress, discuss policies and even attempt a presidential competitive ticket for 2019".
But the ex president is very much on her own, "her claims of fraud following the August primaries were not echoed by any outstanding politician. Nobody took her on that, and since Cristina knows she most probably will lose, she's waving that flag".
On the other side, Macri and Let's Change have the support of the business community, international investors, some unions, the media, and most public opinion who want an end to Kirchnerism, Besides some young Peronist leaders with presidential aspirations would like to see the ex president defeated, and removed from any possible challenge.
If opinion polls are correct, of the three Senate seats in the Buenos Aires province, Let's Change should take two and Cristina Fernandez the third, which under the Argentine system goes to the runner up party. However in this scenario the ex president as Senator could delay court proceedings but her leadership and future aspirations would receive a definitive blow confirming Kirchnerism is but a residual political expression.