Business calls on the Bank of England to delay raising interest rates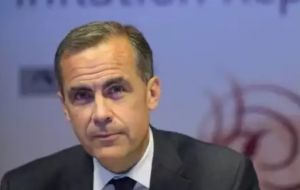 Bank of England should hold off from raising interest rates next month, according to a forecasting body. Bank governor Mark Carney has said rates could go up in the "relatively near term", with many analysts expecting a hike in November. However, the EY Item Club said such a move risked hurting the UK's "fragile economic outlook".
The group called on the bank to wait another year before raising the benchmark rate from 0.25% to 0.5%. It comes after the British Chambers of Commerce and ratings agency Standard & Poor's suggested economic growth was not strong enough to warrant a rate rise.
The EY Item Club, which uses the Treasury's forecasting model, predicted GDP growth would slow to 1.5% this year and 1.4% in 2018.
It said expectations were high that the Bank's Monetary Policy Committee (MPC) would raise rates at the next meeting on 2 November, but urged it to wait for the economy to pick up.
"While it is understandable that the MPC will want to gradually normalize interest rates from their current 'emergency levels', we believe it would be better to do so once the economy is on a stronger footing," said Howard Archer, chief economic adviser to the EY Item Club.
The last time rates were raised was July 2007, before the financial crisis. Since then interest rates have been kept low to boost the economy by keeping the cost of borrowing down. The Bank cut rates further - from 0.5% to a record low of 0.25% - after the Brexit vote in a move designed to stimulate the economy.
Recent low unemployment figures and stronger inflation have made a rise in rates more likely.