Federal audit freezes Rousseff and Gabrielli assets over losses in refinery purchase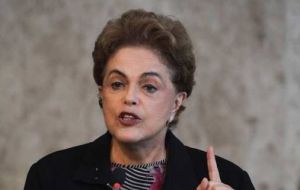 Brazil's federal audit court ordered a freeze of former President Dilma Rousseff's assets as well as those of José Sérgio Gabrielli, ex-head of state-run oil company Petrobras, over a US$580 million loss in the 2006 purchase of a Texas refinery.
The order also covered former Finance Minister Antonio Palocci and three members of the board of directors of Petrobras, that approved the controversial purchase.
The court, known as the TCU, said it detected "irregularities" in the purchase of the refinery in Pasadena, Texas, a move that it considered made no business sense. TCU said the freeze would last one year and cover assets that could guarantee the return to public coffers of the losses incurred by the oil company in buying the refinery.
Petrobras paid US$360 million for half of Pasadena Refining in 2006, more than eight times what its previous owner Astra Oil, a unit of Belgian-controlled Astra Transcor Energy, paid for the 112,000-barrel-a-day refinery a year earlier.
By 2012, Petrobras had sunk US$1.18 billion into it including the cost of buying out Astra's remaining half after a legal dispute between both firms.
Rousseff, who was impeached last year for breaking budget rules, was chief of staff for President Lula da Silva at the time of the refinery purchase and chaired the Petrobras board of directors. In 2014, when the operation was being investigated for alleged graft, then-President Rousseff said she had been given incomplete information by directors responsible for the deal.
Prosecutor Carlos dos Santos Lima said Petrobras overpaid for the facility and alleged it was in terrible condition when acquired.