Madrid tells Catalonia's leader he has until Thursday to comply with Spanish law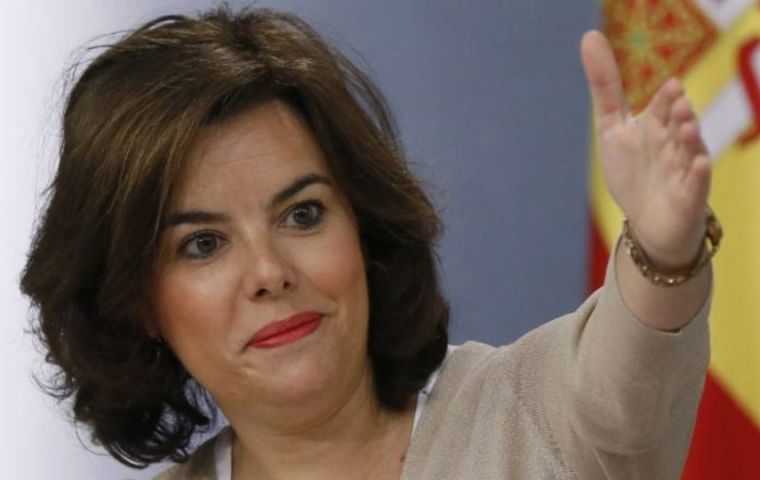 Spain's deputy prime minister has said that Catalonia's leader did not give an adequate response in his letter about the region's independence and has until Thursday to comply with the country's laws. Carles Puigdemont's letter, issued two hours before a Monday deadline, did not clarify whether he in fact declared Catalonia's independence from Spain. He called for talks with Spain's government.
Spain's central government wanted a simple "yes" or "no" answer from Puigdemont, something that Spanish deputy prime minister Soraya Saenz de Santamaria said that he did not provide, "it wasn't very difficult to say yes or no."
"That was the question that was asked and the response shouldn't be complicated."
She said the Catalan leader has until Thursday morning to fall in line, or faces the possibility of Spain activating Article 155 of the Constitution which would allow the central government to take over parts of Catalonia's self-governance.
She added that Puigdemont's call for dialogue is "not credible" and that Spain's national parliament is the place to talk. Puigdemont had called for dialogue with Madrid and asked for meeting with the country's prime minister Mariano Rajoy, complying with a Monday deadline to respond to a request from the central government to state explicitly whether he had declared independence.
But Puigdemont's letter, released about two hours before the deadline was set to expire, did not clarify whether he indeed had proclaimed that Catalonia had broken away from Spain.
Puigdemont replied with a four-page letter seeking two months of negotiations and mediation.
"The priority of my government is to intensively seek a path to dialogue," Puigdemont said in his letter. "We want to talk … Our proposal for dialogue is sincere and honest."
Spain has repeatedly said that it is not willing to sit down with Puigdemont if calls for independence are on the table, or accept any form of international mediation.