May and Juncker agree "Brexit negotiations should accelerate", but differences remain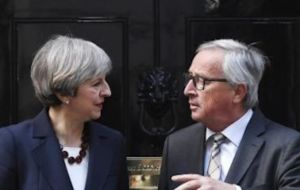 Brexit negotiations should "accelerate over the months to come," says a joint statement from the UK prime minister and the president of the EU Commission. Theresa May and Jean-Claude Juncker met in Brussels on Monday for a dinner they called "constructive and friendly".
The meeting comes after the latest round of negotiations, where the EU's chief negotiator Michel Barnier said the two sides had reached "deadlock". Downing Street sources said the dinner had "been in the diary for weeks".
Mrs. May and Mr. Juncker said they had had a "broad, constructive exchange on current European and global challenges", including preserving the Iran nuclear deal and strengthening security in Europe to battle terrorism.
The pair - who were joined by Mr. Barnier and Brexit Secretary David Davis - then spoke about Article 50 negotiations.
"The prime minister and the president of the European Commission reviewed the progress made in the Article 50 negotiations so far and agreed that these efforts should accelerate over the months to come," the statement read.
"The working dinner took place in a constructive and friendly atmosphere."
The three initial topics for negotiation - the amount the UK owes the EU when it leaves, the future rights of EU citizens in the UK and UK citizens living in the EU, and what happens on the Northern Ireland border - were expected to dominate the conversation ahead of an EU summit later this week, attended by the leaders of the 27 EU countries.
Mrs. May hopes that the leaders will give Mr. Barnier a mandate to start talks on future trade. But the EU has said that until "sufficient progress" is made on the three topics they will not begin discussing the UK's post-Brexit relations.
Barnier has also said there is still no agreement on how much the UK should pay the EU when it leaves.
Last week an internal draft document suggested the EU was going to begin preparing for the possibility of trade talks beginning in December, provided the UK does more to bridge the gap on the key negotiating points.
PM May discussed Brexit ahead of the dinner in phone calls with French President Emmanuel Macron and German chancellor Angela Merkel.