Brazilian Senate challenges Supreme Court and returns suspended lawmaker
Wednesday, October 18th 2017 - 07:37 UTC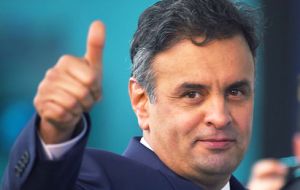 The Senate on Tuesday rejected a decision of Brazil's top court and returned a suspended lawmaker to his post, in what critics said was the latest self-protection move by politicians accused of corruption.
Former presidential candidate Aecio Neves was returned to the Senate by a 44-to-26 vote. He had been suspended by Brazil's Supreme Court, which ordered him put under house arrest. The conservative politician, who is a key ally of embattled President Michel Temer, was accused of obstruction of justice in a corruption case.
Politicians have a special jurisdiction in Brazil's top court and cannot be prosecuted by low courts, but lawmakers argue the judiciary cannot prevail over the legislature.
The vote is likely to escalate tensions between anti-corruption judges and scandal-tainted politicians, many of whom have been caught up in the sprawling "Car Wash" corruption case.
Neves, who narrowly lost the presidency in 2014, is chairman of the Brazilian Social Democracy Party, one of the biggest in Congress. He took a leave from the party position after the series of charges appeared.
Temer needs the help of Neves' party to survive a vote in Congress that could suspend him from office and put him on trial for corruption.
"Voting with Aecio is voting for democracy" since politicians should have the last word on which colleagues are arrested, said Senator Romero Juca, a leader of Temer's administration in the upper house.
Since Rousseff was impeached and replaced by Temer, Brazil's government has cut funding for federal police and prosecutors have complained about difficulties in investigating politicians.