Identification of unknown Argentine combatants buried in Falklands advancing according to agenda
Wednesday, October 18th 2017 - 11:47 UTC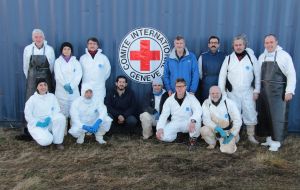 The forensic team from the International Committee of the Red Cross, ICRC, involved in the Falklands Humanitarian Project is currently analyzing the DNA samples taken from the Argentine soldiers remains buried at the Darwin cemetery in the Islands, and defining strategies that should allow the delivery of results to the Argentine, and United Kingdom governments.
"Members of the forensic team from ICRC which participated in the Humanitarian Project in the Falkland/Malvinas Islands met last week with the purpose of continuing with the reports initiated during the field work in the Islands, taking into consideration the DNA results already available", according to the ICRC press office.
"During the meeting they looked for ways to define the following steps to complete the results in accordance with the agenda established for the Humanitarian Project Plan", adds the report according to what was published by Buenos Aires daily Clarin.
In December 2016, the governments of Argentina and the UK, with the Falklands consent, established the Humanitarian Project Plan, to identify the remains of the unknown Argentine combatants fallen during the 1982 conflict, and which was entrusted to ICRC.
A team of fourteen forensic experts from Argentina, Australia, Chile, Spain, Mexico and the UK, last June were involved in the exhumation, taking DNA samples and documenting each of the unidentified remains.
Laurent Corbaz, head of the ICRC Humanitarian Project pointed out that their task "is humanitarian, not a forensic investigation. The purpose is the identification of the soldiers that lost their lives during the conflict".
"It is the first time the ICRC is involved in such a sophisticated operation, in the framework of an international diplomatic agreement. In fact, it never happened before, but the reason is because now it can be done given the advance of the different science disciplines involved", added Corbaz.
According to the agreed agenda and progress in the humanitarian task, by the end of the year identification results will be delivered to the Argentine and United Kingdom governments and following this, the next of kin of the Argentine combatants fallen during the conflict, and which accepted the process, will be informed.