UK inflation climbs to 3% in September, mainly because of the fall in sterling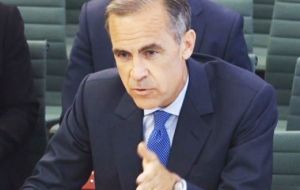 The UK's key inflation rate hit its highest for more than five years in September, driven up by increases in transport and food prices. The Consumer Prices Index (CPI) climbed to 3%, a level it last reached in April 2012, and up from 2.9% in August. The pick-up in inflation raises the likelihood of an increase in interest rates - currently 0.25% - next month.
The figures are significant because state pension payments from April 2018 will rise in line with September's CPI. Under the "triple lock" guarantee, the basic state pension rises by a rate equal to September's CPI rate, earnings growth or 2.5%, whichever is the greatest. At the moment, the full new state pension is £159.55 per week, equivalent to £8,296.60 per year. Business rates will go up by September's Retail Prices Index (RPI) of 3.9%.
The fall in the pound since last year's Brexit vote has been one factor behind the rise in the inflation rate, as the cost of imported goods has risen.
ONS head of inflation Mike Prestwood said: "Food prices and a range of transport costs helped to push up inflation in September. These effects were partly offset by clothing prices that rose less strongly than this time last year."
The Bank of England is tasked with keeping CPI inflation at 2%, and last month its governor, Mark Carney, indicated interest rates could rise in the "relatively near term" if the economy continued on its current path.
The governor of the Bank of England has to write a letter of explanation to the chancellor if the inflation rate is more than 1% either side of the 2% target.
On Tuesday, Mr Carney told MPs on the Treasury Committee that "inflation rising potentially above the 3% level in the coming months is something we have anticipated", because of the fall in the value of the pound.
He said he expected inflation to peak in October or November, and at that point he thought it would be "more likely than not that I would be writing on behalf of the Monetary Policy Committee (MPC) a letter to the chancellor."
Suren Thiru, head of economics at the British Chambers of Commerce, said the Bank of England's policymakers "should resist the temptation to raise interest rates, particularly during this period of heightened political uncertainty".
"Raising rates before the UK economy is ready risks undermining consumer and business confidence, weakening the UK growth prospects further," he said.