Mercosur/EU trade deal again faces French foot dragging with Irish support
Thursday, October 19th 2017 - 07:39 UTC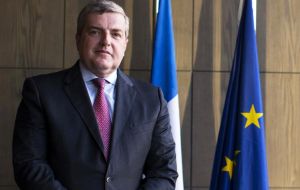 France will propose changing the European Commission's mandate to negotiate a trade deal with Mercosur bloc to include food safety provisions, its envoy to Brazil said on this week.
French ambassador Michel Miraillet underlined there was heightened concern in the European Union over food safety after a series of recent scandals, including the bribing of inspectors by meatpackers in Brazil to overlook sanitary practices.
Miraillet said France expected "four or five" EU countries to back its plan to propose updating the Commission's negotiating authority.
"We don't know what will happen, but this is one proposal that will be made. The mandate dates from 1999 and needs to be modified," the diplomat told Brazilian reporters.
The government of President Emmanuel Macron is under pressure from French farmers to avoid competition from cheaper Mercosur products, especially meat and ethanol.
At a gathering of farmers and food producers last week, Macron said he was in no hurry to conclude by the end of the year trade negotiations that have dragged on for 18 years.
Brazil's foreign ministry declined to comment on the ambassador's comments.
"I am not in favor of hurrying to conclude before the end of the year trade negotiations for which the mandate was given in 1999," Macron told farmers and food producers. He added that he would raise the issue with other European leaders next week.
A European diplomat, who asked not to be named due to the sensitivity of the matter, said France's planned request was a delaying tactic. A Brazilian diplomat said the French proposal was an attempt to "intimidate" Mercosur, whose members are seeking greater market access for food exports to the EU.
Mercosur members Argentina, Brazil, Paraguay and Uruguay want the EU to improve an offer to open its markets to beef and ethanol if it wants to seal a trade deal by year-end.
Europe has offered to allow 70,000t of beef and 600,000t of ethanol to enter the EU with reduced import duties, which Brazilian and Argentine negotiators described as "disappointing."
Mercosur has targeted some 300.000 tons of beef, and was prepared to accept 140.000 in a first round of negotiations with the EU, but 70.000 refers to the original proposal, which was discarded and was followed by years of frozen discussions. Mercosur argues that its target merely represents 140 grams of beef per EU capita.
The European Commission, which negotiates on behalf of all EU countries, has to balance the interests of members pushing for a trade deal and those such as France, Ireland, Belgium and Poland that are concerned about a glut of agricultural imports from Mercosur.
The next negotiating round between Europe and Mercosur is planned for Nov. 6-10, with another possibly at the start of December.