UK banks allegedly involved in helping launder money stolen from South Africa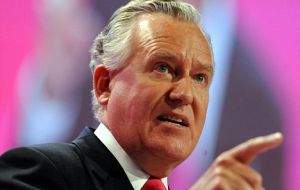 UK banks may have been used to launder money stolen from South Africa, a former cabinet minister has alleged in a letter to Chancellor Philip Hammond. Labour Lord Peter Hain said a South African whistle-blower had indicated the banks "maybe inadvertently have been conduits for the corrupt proceeds of money".
The Treasury said it had sent his letter to financial regulator the Financial Conduct Authority (FCA).
"We take allegations of financial misconduct very seriously, and have passed Lord Hain's letter on to the Financial Conduct Authority and relevant UK law enforcement agencies, including the National Crime Agency and Serious Fraud Office, to agree the right action," a spokesperson said.
A spokeswoman for the FCA said it was already in contact with the banks named by Lord Hain and would "consider carefully further responses received".
The money laundering accusation rests on alleged ties between the country's President Jacob Zuma and a wealthy business family, the Guptas.
Lord Hain, a leading anti-apartheid campaigner who grew up in South Africa, urged UK authorities "to track that stolen money down and make sure that British financial institutions help return it to South African taxpayers".
The former Northern Ireland secretary alleged the issue was "a result of the corruption and cronyism presided over by President Zuma and close allies the Guptas".
Brothers Ajay, Atul and Rajesh Gupta have interests in computer, mining, media, travel, energy and technology and employ about 10,000 people through their company Sahara Group.
The Guptas have been accused in the past of wielding influence in South African politics under President Jacob Zuma's administration. Both President Zuma and the Guptas deny wrongdoing, and say they are victims of a "politically motivated witch-hunt"