King insists Catalonia "is and will remain" in Spain. Rajoy planning a general election next January
Saturday, October 21st 2017 - 08:09 UTC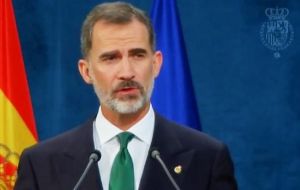 In his second intervention in the secession crisis, Spain's King Felipe VI has said Catalonia "is and will remain" an essential part of the country. He told an awards ceremony in the northern city of Oviedo that the Catalan government was causing a rift and Spain would solve the problem through democratic institutions.
Catalonia's leader has threatened to declare independence, and Madrid is making plans to impose direct rule.
According to the opposition Socialists, who support the central government's stand against Catalan independence, the plans include elections in Catalonia in January.
Prime Minister Mariano Rajoy will announce the full set of measures on Saturday, two days after a deadline for Catalonia's autonomous government to abandon its independence bid.
The central government has said it will trigger Article 155 of the constitution, which allows it to impose direct rule in a crisis, for the first time.
Other moves may include taking control of Catalonia's regional police force. Article 155 does not give the government the power to fully suspend autonomy.
A referendum, regarded as illegal by Spain, was held in Catalonia on 1 October. Of the 43% of Catalans who reportedly voted, 90% were in favor of independence. Most anti-independence voters boycotted the ballot.
King Felipe previously said Catalan President Carles Puigdemont and other separatist leaders who organized the referendum had "broken the democratic principles of the rule of law" and showed "disrespect to the powers of the state".