Brexit countdown: PM May faces Parliament and Davis travels to Paris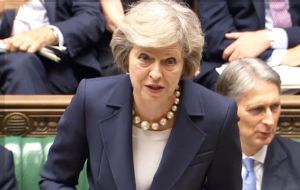 UK Brexit Secretary David Davis will travel to Paris on Monday for talks days after French President Emmanuel Macron suggested Britain would need to up its divorce payment offer to unlock trade negotiations. Davis will have dinner with French foreign minister Jean-Yves Le Drian in the UK's latest attempt to jump-start withdrawal talks with the European Union.
France is seen to be taking one of the EU's most hard line views on the exit bill after president Macron suggested at the European Council that it could top €40bn (£36bn).
The prime minister is also due to update the Commons on Monday on the progress made during last week's summit of EU leaders in Brussels. It is thought that Theresa May will say that negotiations are "deeply technical", but she has not forgotten that the lives of millions of people are at the heart of the process.
A spokesman for the Department for Exiting the European Union said the prime minister proposed a strictly time-limited implementation period in her Florence speech and had been clear that agreeing this principle early in the process would minimize unnecessary disruption to businesses.
He said: "We are making real and tangible progress in a number of vital areas in negotiations. However, many of the issues that remain are linked to the discussions we need to have on our future relationship.
"That is why we are pleased that the EU has now agreed to start internal preparatory discussions on the framework for transitional arrangements as well as our future partnership."