UK's biggest business lobbies calling for urgent Brexit transition deal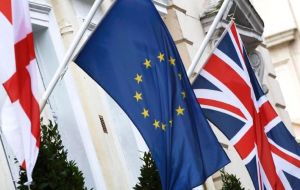 Britain's five biggest business lobby groups are calling for an urgent Brexit transition deal, or they warn the UK risks losing jobs and investment. In a joint letter being sent to Brexit Secretary David Davis, the groups, including the Institute of Directors and CBI, will say time is running out.
According to the BBC the letter is still in draft form, but will be sent in the next day or two.
The other lobby groups backing the letter are the British Chambers of Commerce, the Federation of Small Businesses, and the EEF manufacturing body. Together they represent companies employing millions of workers.
There has been a growing anxiety among businesses at what they see as a lack of progress in the Brexit negotiations.
They say it is important that the Brexit transition period matches as closely as possible current trading arrangements with the EU.
Theresa May has suggested a period of about two years, with the UK and EU trading on broadly similar terms to now and payments to Brussels to meet Britain's budget commitments.
But although EU negotiators have agreed to start preliminary work on a future relationship, they still want more concessions on the UK's so-called "divorce payment" before starting talks on trade and transition.
Sky News and the Guardian reported they had seen the draft letter, which says an agreement on a transition "is needed as soon as possible, as companies are preparing to make serious decisions at the start of 2018, which will have consequences for jobs and investment in the UK".
The letter reportedly adds: "It is vital that companies only have to undertake one adjustment as a result of the UK's withdrawal, not two - and that businesses, the UK government and authorities in the EU have enough time to make the changes needed to deliver Brexit successfully."
Concern about the loss of UK jobs and investment was underlined last week when the boss of investment banking giant Goldman Sachs, Lloyd Blankfein, tweeted that he will be "spending more time" in Frankfort. Goldman, which employs about 6,000 people in London, is building up its presence in the German financial city ahead of Brexit.
Earlier this month, the deputy governor of the Bank of England, Sam Woods, warned that the UK and the EU must agree a transition deal by Christmas or companies would start triggering contingency plans.