Brazil's Temer admits the pensions' reform could be delayed until next year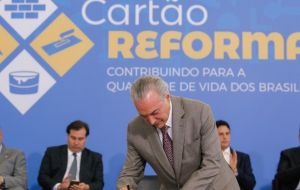 Brazil's President Michel Temer admits for the first time that the crucial pension reform legislation could not be passed by Congress this year. In an interview with Poder360 news website, Temer said the government had to again consult lawmakers in the government coalition, many of whom have already said they are doubtful the legislation will pass this year.
The pension reform is crucial to Temer's attempts to plug Brazil's budget deficit and reduce the bloated pension system. But its provisions to increase the retirement age have made it unpopular with Brazilians.
Temer put the delay down to charges in a corruption case that put his legislative agenda on hold for six months.
The government is considering a watered-down version of the bill, Temer said, confirming previous statements from officials that it would be ready to settle for a bill that included at least the introduction of a minimum retirement age of 65 years for men, up from the current average age of 55.
A diluted pension bill would also need to include a gradual transition to the new rules and parity between the public and private pension systems, he said.
His chief of staff Eliseu Padilha, who also took part in the interview, said the government hoped a less extensive reform would still achieve 75% of the planned fiscal savings, assuming it included cuts to benefits for public sector employees.