Catalonia representatives anticipate civil disobedience against Madrid
Tuesday, October 24th 2017 - 07:05 UTC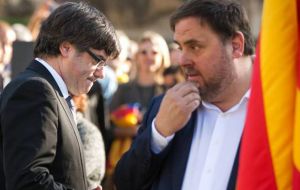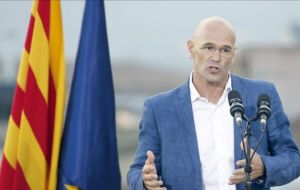 Representatives of the government and parliament in Catalonia have warned that civil disobedience may be possible if Madrid actually triggered the constitutional clause stopping the autonomous rights of the region.
In an interview with the BBC, Barcelona's Foreign Affairs Advisor, Raul Romueva, said he believed the Catalan authorities would block any attempts by the Spanish central government if the ruling from Saturday was voted on and entered into force. The CUP party, which is believed to have an influence on the government of Prime Minister Carles Puigdemont, has published a statement threatening that "aggression will be met with large-scale civil disobedience."
Spanish Prime Minister Mariano Rajoy requested the Senate in Madrid to remove Puigdemont and allow representatives of national authorities to prepare the area for elections within six months. Several hundred Catalan municipalities have called on the Barcelona Parliament to reject direct government with an official document and vote. The institution will meet this week to discuss what action can be taken and whether to declare independence in response to Madrid.
Romueva said that he believes that all institutions, including the police, will execute the orders of their direct leaders, not the Spanish government, if necessary. "Not that we will (reject it), but this is not a personal decision, it is the decision of seven million people," added the representative of the Catalan authorities.
He was referring to the referendum on October 1, where 90 per cent of the participants supported the division of Catalonia from Spain. However, the polling activity was less than half of the voters - about 43% - and only two million voted for independence.
Catalonia's Vanguardia quoted a spokesman of the local police, a supporter of independence, according to whom the group would retain "loyalty to local parliament and government," if the government pushed Puigdemont and attempted to take over the Catalan institutions.