Theresa May dismisses a call for second Brexit referendum: "out of the question"
Tuesday, October 24th 2017 - 06:06 UTC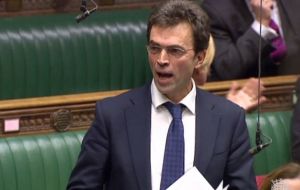 Prime Minister Theresa May has dismissed a call for a second referendum as "out of the question", affirming that Britain will be leaving the EU. Mrs May was asked whether people should have the chance to vote again by Labour's Paul Flynn, who said "second thoughts" were superior.
Speaking in the Commons, Mr Flynn asked: "Isn't it right that three years after the referendum, when we're thinking of taking this step, we allow the public to have a second opinion on this in the knowledge that second thoughts are always superior to first thoughts?"
Mrs. May replied: "Can I say to (Mr Flynn) that I think this is about more than a decision to leave the European Union: it's about whether the public can trust their politicians to put into place the decision that they have taken.
"And I suggest that any suggestion that we in some sense say to the public 'oh you better have a second referendum because we think you got it wrong' – that is out of the question – we will be leaving the European Union."
Liberal Democrat Tom Brake asked Mrs. May when she would "face down the ideologues in her party, on her back benches and indeed in her Cabinet" who are clamoring for no deal "from the safety of their stately homes and their chateaux, their trust funds and their inherited wealth", which he said they know "will do huge damage to the 'just about managing', leave the UK weaker and leave our position in the world much smaller".
"When is she going to stand up for remain voters and indeed the leave voters who do not want the economic catastrophe that the Euro-skeptic obsessive on her benches want to inflict upon us?"
Mrs. May said she was "standing up for the British people who voted that we should leave the European Union, unlike the Liberal Democrat Party who want to tell the British people that they got the answer wrong".
Pro-EU MPs expressed alarm Britain could leave the European Union without any transition period if there is no deal on a new free trade agreement.
Also in the Commons, Mrs May said in order to have a transition to a new partnership arrangement with the EU following Brexit, the terms of that arrangement would have to be clear.
Following last week's EU summit in Brussels, the Prime Minister said she remained "confident" she would be able to get that "new, deep and special partnership" with the EU. However Labour MPs said if she failed to get an agreement and there was no transition, businesses would face the "cliff-edge" break which they had long feared when Britain leaves in March 2019.
Mrs. May told the House: "The point of the implementation period is to put in place the practical changes necessary to move to the future partnership. "In order to have that you need to know what the future partnership is going to be."
The Prime Minister was pressed by Labour former Cabinet minister Yvette Cooper who warned Britain could be forced to fall back on World Trade Organization rules.
"If we haven't got a long-term trade deal agreed by this time next year, then there won't be any transition deal at all and Britain will end up on WTO rules by March 2019," she said.