Europe tells Malta it must bring to light the killing of journalist Daphne Caruana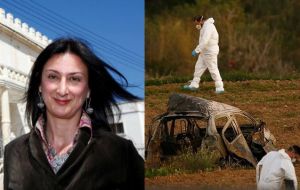 "Malta must show to Europe and the world that its rules and regulations are healthy and robust," European Commission first vice-president Frans Timmermans said. "If problems of a more general or systemic nature are brought to light, they must also be addressed, regardless of the consequences."
In a 45-minute debate, MEPs from the European Parliament's various political groupings expressed horror at the assassination of Malta journalist Daphne Caruana Galizia and stressed they would be keeping a close watch on the way the investigation unfolded.
Estonian minister and EU Council representative Mattis Maasikas said he was confident Maltese authorities were up to the task of investigating the murder. But that confidence was not corroborated by many MEPs in the Strasbourg chamber.
"Who is going to investigate the Prime Minister? The Prime Minister and entire government of Malta should resign," European Conservatives and Reformists MEP Monica Macovei said.
ALDE's Sophia Veld said she expected clarifications from the Maltese government about allegations Caruana Galizia had made, and said that while the European Commission could not conduct a murder investigation, it could investigate corruption claims.
"If one member state does not uphold the rule of law, the entire system fails," she argued.
Green MEP Sven Giegold said it is clear why perpetrators had chosen to place a bomb under Ms Caruana Galizia's car rather than under that of the police commissioner or Attorney General.
"It is up to us to finish Daphne's fight," he said. European People's Party MEP Esteban Gonzalez Pons expressed his disgust at the way Caruana Galizia had been harassed.
"She died with 42 [court] cases against her and without access to her bank account. They began killing her already before they finished her off," he hissed. "We failed Daphne. Europe failed her."