Macri reminds cabinet "more votes, means more responsibilities"
Wednesday, October 25th 2017 - 10:02 UTC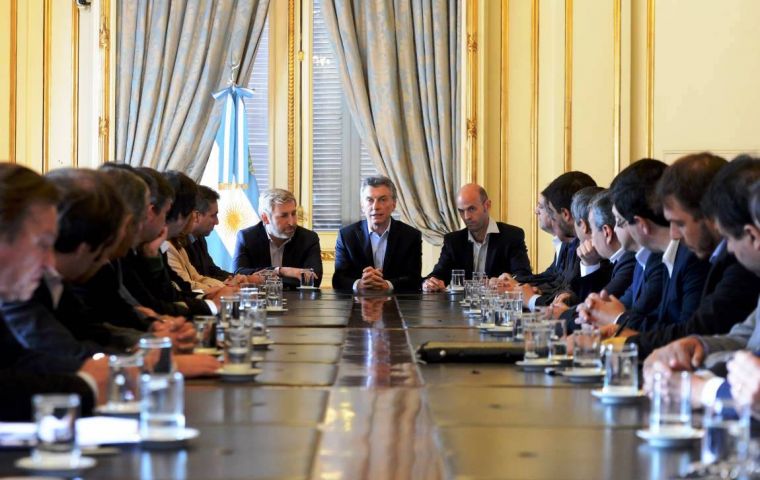 "I'm not that happy, more votes means more responsibilities", Argentine president Mauricio Macri told his ministers when they applauded him on entering the first cabinet meeting following on Sunday's victory of the ruling coalition, Let's Change in the midterm elections.
In the first formal meeting with his ministers, Macri called to work hard to ensure that the confidence expressed in votes "reflects the commitment to do what is needed to be done, and the determination to achieve the structural changes that the people entrusted us with their votes".
"It's a unique opportunity that we can't let run away, we need to make of Argentina what we deserve, what our people deserve", underlined the president who admitted that Sunday was a great relief, following months of tension and expectation. Macri then referred to the opposition, particularly Kirchnerism saying that "they still have de capacity to make life a pain, and they use the Plaza de Mayo as an amplifier".
Macri was referring to the big protest organized by human rights groups close of Cristina Fernandez at Plaza de Mayo, who despite a ban on political activities previous to Sunday, ballot day, held a Saturday rally to blame the government for the Maldonado case.
Santiago Maldonado an activist who supported the indigenous Mapuche people in Patagonia, disappeared some eighty days ago, following alleged clashes with security forces, but his body turned up three days before the election. A first autopsy stated that there were no signs of violence or beatings, or shots in the corpse. Anyhow the protest and march took place.
Further on Macri called on the cabinet "to keep pushing for a cultural change". He added " we must reward the hard workers, not the slobs who usually have influence. We must support those who work and toil, not the lazybones or tramps".
Macri also asked for an applause for cabinet chief Marcos Peña whom he identified as the great organizer that helped achieve Sunday's electoral victory, and invited Interior minister Rogelio Frigerio to give details of the political contacts for a great national agreement with the different sectors elected to Congress.
"It is good and comforting to see how people supported change", affirmed Macri who also criticized those who had questioned the way his ruling coalition connected with people.
"Despite we were criticized for the wrong way in which we contacted people and voters, people clearly understood and supported what we wanted to say", boasted the Argentine president.