Catalonia and Madrid double the stakes and move into unchartered waters
Friday, October 27th 2017 - 17:13 UTC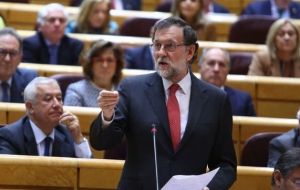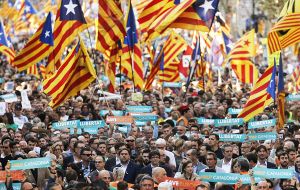 Spain's Senate on Friday authorized the government to apply constitutional measures to take control of the government of Catalonia. A majority of senators gave Spanish Prime Minister Mariano Rajoy the go-ahead through Article 155 of the constitution to apply unprecedented measures, including sacking Catalan regional President Carles Puigdemont and his cabinet. It also authorized him to curtail Catalan parliamentary powers.
It is the first time in four decades of democratic rule that the national government in Madrid would directly run the affairs of one of Spain's 17 semi-autonomous regions, a move that will likely fan the flames of the Catalan revolt.
The vote came less than an hour after the Catalan Generalitat itself voted in Barcelona to declare the region's independence and to begin forming a new state in a ballot boycotted by opposition deputies. Thousands of independence supporters gathered near the parliament building in the northeastern city anticipating that historic declaration.
The twin developments showed Spain's biggest political crisis in decades heading for a showdown.
A massive crowd in Barcelona reacts as they watch the parliament session on a huge screen during a rally outside the Catalan Parliament on Friday. Catalonia's regional Parliament passed a motion Friday to establish an independent Catalan Republic.
Facing a crowd of hundreds of supporters packing Catalonia's parliament building, Puigdemont said: "In the days ahead we must keep to our values of pacificism and dignity. It's in our, in your hands to build the republic."
"Today the Parliament fulfilled the long-desired and fought-for step and culminated the mandate of the ballot boxes," he added, in reference to a banned referendum separatists held on Oct. 1.
Rajoy appealed for calm in a tweet posted minutes after the Catalan vote. "I ask for calm from all Spaniards. The rule of law will restore legality in Catalonia," Rajoy wrote.
Earlier, the Spanish prime minister received sustained applause before and after his speech in the Senate in Madrid, telling the chamber that Spain was facing a challenge not seen in its recent history.
What is happening in Catalonia is "a clear violation of the laws, of democracy, of the rights of all, and that has consequences," he said.
The Spanish government must now decide how and when to apply the measures. It says they are temporary and aimed at restoring legality in the northeastern region that is an economic powerhouse in Spain.